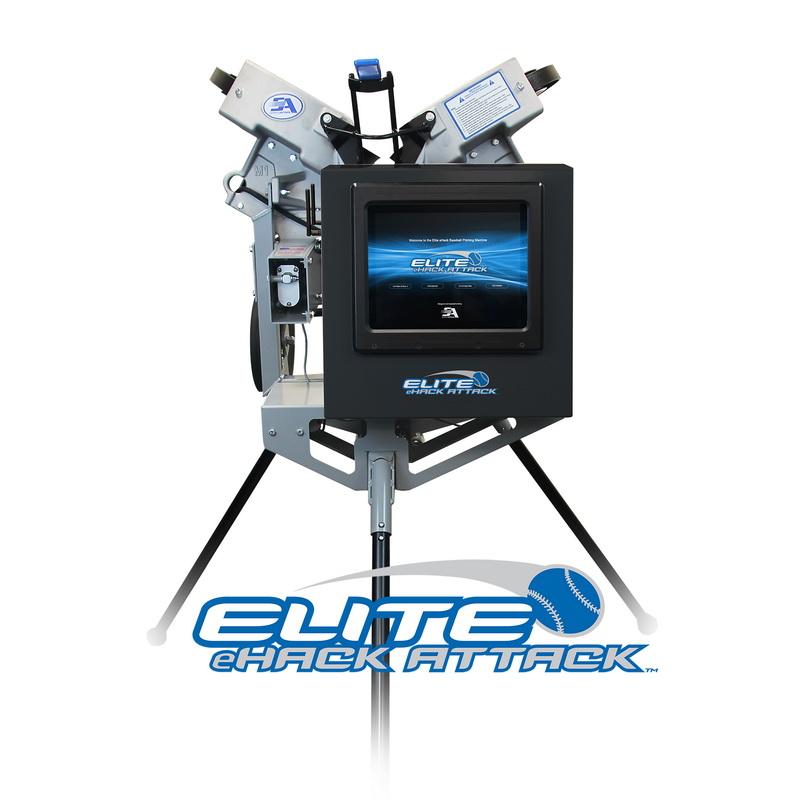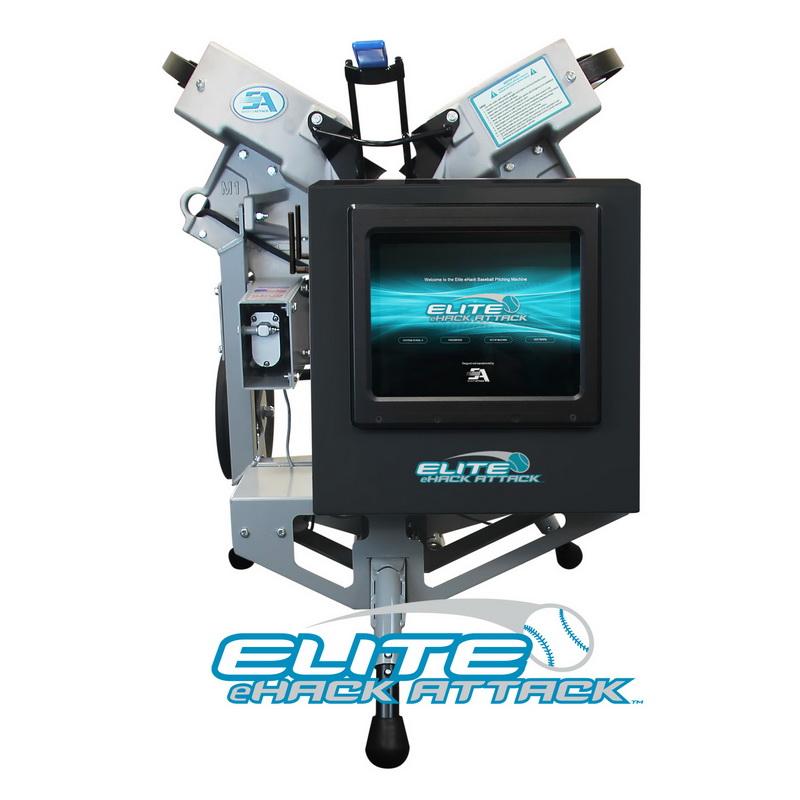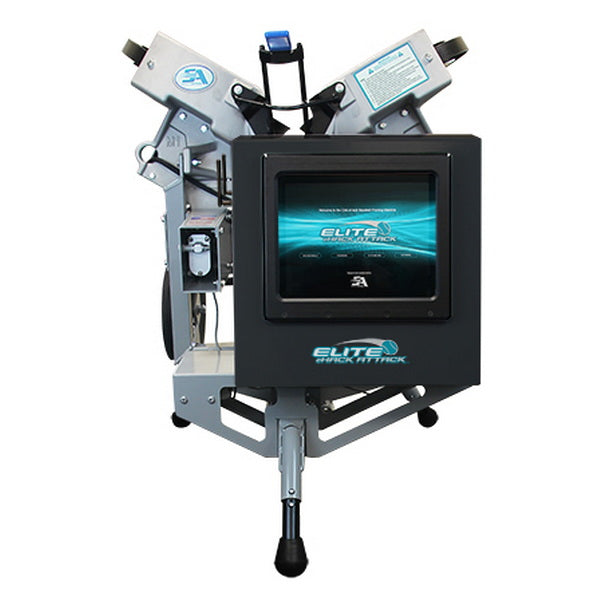 Elite eHack Attack Pitching Machine for Baseball
Free Shipping!
Talk to an expert(888) 466-0009
Performance Improvement Pledge45-Day Guarantee: Improve skills or receive a refund! Learn More.

Elite eHack Attack Pitching Machine for Baseball by Sports Attack
 The Elite eHack Attack Baseball Pitching Machine features an oversized 12-inch touchscreen monitor that lets you quickly navigate through the remarkably user-friendly software. You'll be able to access our library of pitches through the standard default pitch selection or by saving a file of your favorite pitches and even pitch sequences. Manual mode allows you to create a library of custom pitching styles.
Use the Standard Pitch Selection on the Elite eHack (Preset/Default)
Standard pitch selection is the quickest way to get started and features eight instantly accessible pitches:
Fastball

Change-Up

Heater

Split Finger

Curveball (R and L)

Slider (R and L) 
 Customizable ball speed and ball spin across all of our standard pitches allow you to simulate any training drill and match pitches with the skill set of hitters at all levels. Effortlessly adjust the location of standard pitches within the strike zone or enlarged strike zone (two-strike count) for precise ball placement. Use the standard pitch presets or switch to manual mode to select and create any style of pitch by customizing the speed, location, and spin of the ball. Pitches in manual mode can be repeated or changed at any time.
Using Manual Mode with Your Elite eHack Pitching Machine
Manual mode transforms the Elite eHack Attack to function as a basic Hack Attack by granting you full access to each motor so you can develop pitches exactly how you want them. Individual pitch styles or pitch sequences can easily be saved to your favorites list for quick access on any occasion. Ball location can be instantly adjusted between pitches by simply using the arrows on the 12" touchscreen monitor.
Save Your Favorite Pitches
This mode lets you access all of your favorite pitches in one place. As you perfect the pitches that you create, you can save them under your 'Favorite Pitches' from both the manual mode and the standard pitches screen. The favorites folder can hold up to 20 customized pitches at any time, giving a wide range of pitches that can be immediately accessed whenever you need them.
The favorite pitches screen is more than just a folder to save your custom pitches too. When you are on the favorites screen, you will be able to alter the spin, speed, and location of the ball and update it to your saved pitches in the favorites folder. To quickly and easily pick up where you left off the last time you used your machine, the favorites screen gives you the option to return to the last pitch you were practicing with prior to powering down the pitching machine during your previous session. Using the 'Last Pitch' option means you will never miss a beat!
Create and Save Your Favorite Pitch Sequences with the eHack Attack
The Elite eHack pitching machine doesn't stop at just your favorite pitches. Save a sequence of up to 10 unique pitches from your library for easy practice. Quickly access an entire sequence of pitches on your favorite sequences screen to challenge your hitting mechanics or replicate the pitches of a specific pitcher
Practicing with your favorite sequences is not just a repetitive series of pitches, either. There are four sequence cycles that you can use to mix things up:
Auto-cycles through the list of pitches in the order in which you saved them in the sequence

Repeat - cycles through the list of pitches in the order in which you saved them and will continue to repeat the sequence over

Random - cycles through the list of pitches in a randomized order

Manual - cycles through the list of pitches in any order you choose; change the sequence order via the favorite sequence screen
Managing a sequence is simple, too. If you decide that you don't like a particular pitch in your sequence after you have already created it, you will still be able to modify that pitch's speed, spin, and location to fit your preferences perfectly. Once the pitch has been modified, you can then resave it within the sequence without any hassle.
Versatile Utilities & Settings
The Elite eHack Pitching Machine comes with an extensive array of utilities and settings to cater to all of your specific pitching requirements. From user interface adjustments to pitch skill level changes to the high portability and utility of the Elite eHack Pitching Machine, you can rest assured that this unit will be able to operate perfectly aligned with your needs.
Enjoy access to a wide variety of features that you can manage within the machine settings and utilities:
 In settings, please select your desired pitch skill level for any of our standard pitches; choose between youth or adult skill levels.

Adjust the machine interface settings. Change the speedometer reading from MPH to KMH, select and change your preferred language, schedule automatic shutdown time, and adjust the buzzer volume and screen brightness.
Add a Screen Lock-Out option: in settings, create a password-protected barrier for authorized access to the machine operations.

Run machine diagnostics and find error code definitions in utilities.

Find and download any software updates in the utilities tab.


Use the pitch counter in utilities to track the total number of pitches thrown over the machine's lifetime.
High-Quality, Portable Pitching Machine Design 
The Elite eHack Pitching Machine is designed with 3 wheels, ensuring that you can maintain clear vision of the pitch throughout the entire feeding motion, acceleration, and ball release, letting the hitter see the angle of release and location to better time their stride.
The Elite eHack also has a sturdy and dependable construction:
Wide tripod base for safe stability on pitching mounds or any baseball playing surfaces

High tensile, heat-treated alloy and weather-resistant aluminum casting throwing head protects the pitching mechanism and machine operator.

Powder-coated steel frame with rust-proof application provides years of use.
It's weighted enough to absorb recoil and ensure accuracy but is also extremely portable. Quickly move the unit by simply tilting it, removing the legs from the sockets, and rolling it on the two heavy-duty transporting wheels.
 Download the Elite eHack Attack Instruction Manual Here!
Anytime Baseball Supply - Free Shipping On All Ground Shipment Orders Over $49! 
Order Confirmation and Shipment
As soon as you place your order, you will receive an automated confirmation email from us. Once the payment is processed, we will ship your product as soon as possible. All products usually ship out within 1-2 business days, unless otherwise noted. If the item you ordered is unavailable or on backorder, we will reach out to you via e-mail or phone to let you know. If you decide to wait for the backordered product to come back into stock, we will capture the payment and your card will be charged. Items in stock can take 1-3 business days to ship. After the order is processed and shipped from our warehouse, you will receive a tracking number via email. With the tracking number you can track your package and get an estimated time of delivery. If you do not receive a confirmation email or a tracking number, feel free to contact us at support@anytimebaseballsupply.com. *Some large items like the Mastodon Batting Cage are subject to shipping fees due to the large size and nature of the product. 
Free Shipping
Anytime Baseball Supply has Free Shipping everyday on all orders over $49. Some restrictions do apply. Here's the details:
Free Shipping method will be selected by Anytime Baseball Supply. Free shipping orders will be delivered via a standard ground shipping method.
Offer does not apply to truck or freight shipments typical of oversized items. Some of the items we sell exceed the size limits for standard ground shipping and must be sent by truck or freight delivery.
Not available on international, Alaska, Hawaii, Puerto Rico or APO/FPO orders. Only standard ground shipping orders to residential and commercial addresses in the continental US are eligible for Free Shipping.
Damages
Before accepting any package, be sure to thoroughly inspect your item for damages. In the event that your package is damaged, take photos of the item and send them to support@anytimebaseballsupply.com. We will begin the return process and provide a return label free of cost to you. 
30 Day Returns and Cancellation Policy
Refunds on cancelled orders will be returned to the card that the order was placed on. You have 30 days from the day you received your order to return your product. If a delivery is refused for any reason other than a damaged product, a restocking fee will be charged to the card on file and you will be required to pay for return shipping on the product. We reserve the right to charge a 25% restocking fee on Sports Attack orders.
I need a quote for a elite hack attack. ASAP Freight Cost address 7161 Hwy 14 E Bell City, LA 70630 email- whitneyrichard08@gmail.com

Hello, thanks for your interest. We will send the quote via email.