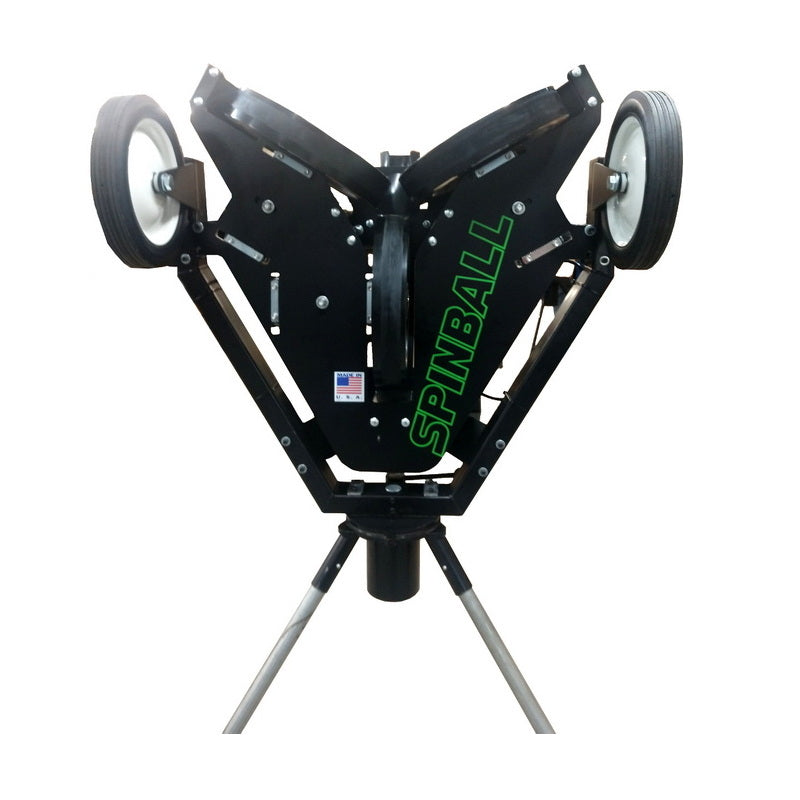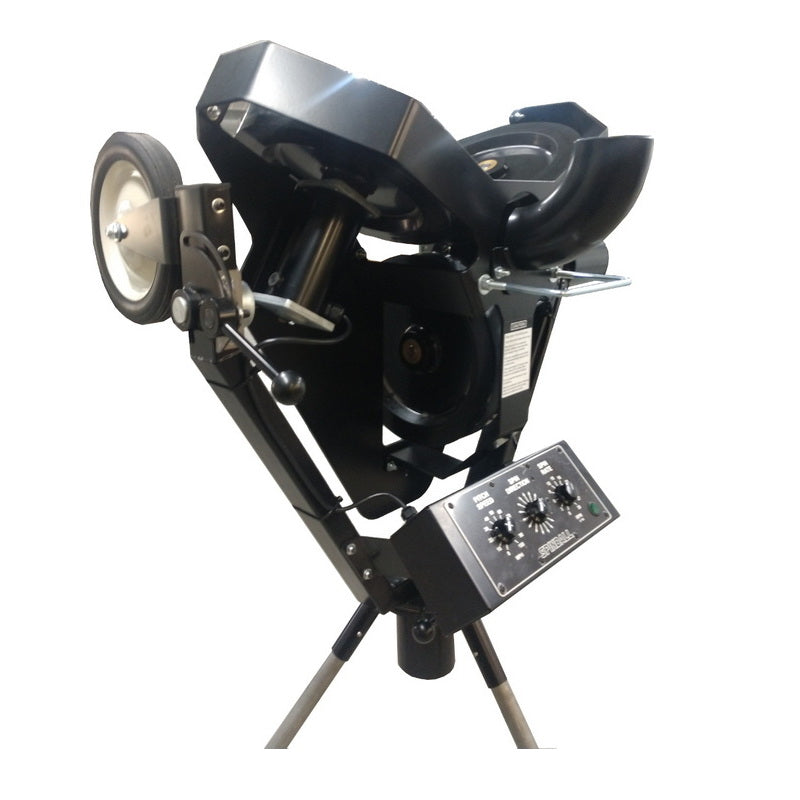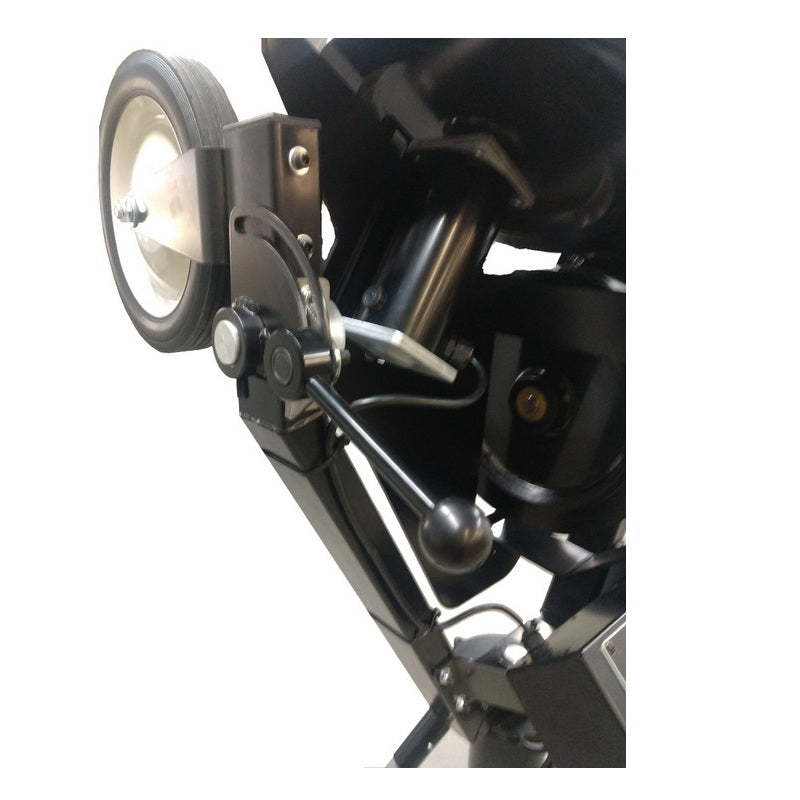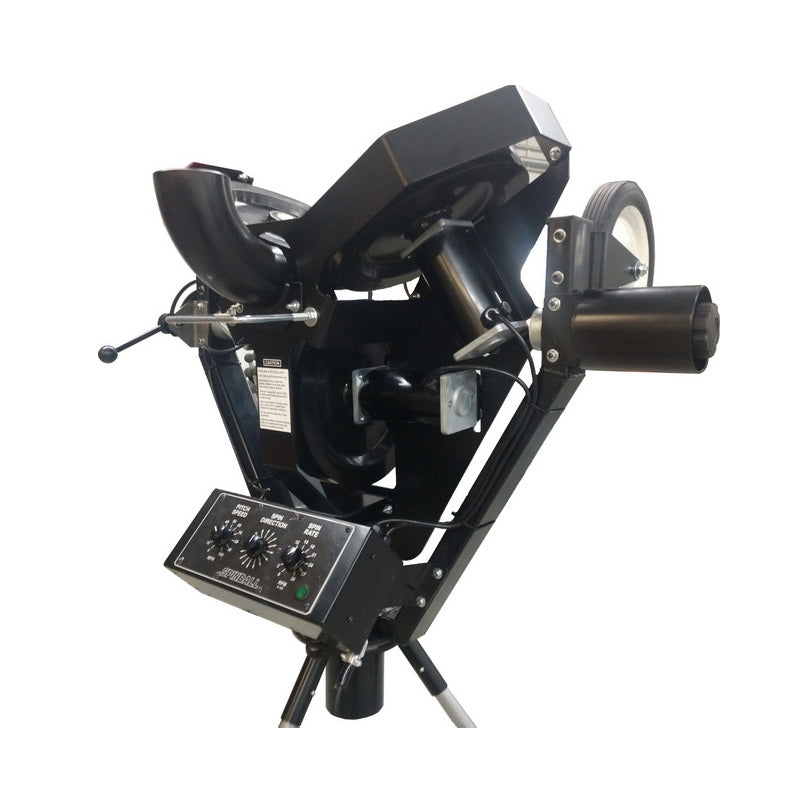 Spinball Wizard 3 Wheel Baseball Pitching Machine
Free Shipping!
Talk to an expert(888) 466-0009
Performance Improvement Pledge45-Day Guarantee: Improve skills or receive a refund! Learn More.

Spinball Wizard 3 Wheel Pitching Machine For Baseball, Softball, And Combo Pitching Machine
With 3 pitching wheels and a smart control panel, you have full control and maximum accuracy with every pitch. The Spinball Wizard 3 comes equipped with a smart control panel featuring 3 control dials that allow you to control pitch speed, spin direction, and the amount of spin in any given pitch. The combination of 3 pitching wheels with solid 1" urethane tread offers a pitching power and accuracy that is unmatched. Take your batting practice to the next level, and stop wasting money on low-grade pitching machines now!
Spinball Wizard 3 Features
3 wheel pitching machine offers superior pitch accuracy
Smart control panel offers full control over every pitch
Helps bring batting skills to the next level!
Pitching wheels made of 1" urethane tread
Throws real baseballs, softballs, or pitching machine balls
Almost instant recovery time
Throws pitches from 40-100 MPH
Durable steel frame and legs
Regular baseball machine SW3BB has a pitch release point of 58"
XL version has a release point of 72"
Motor is protected from line drives by a steel frame
Only weighs 120 lbs. 
Free Shipping!
Made in the USA 
5-year manufacturer's warranty
Spinball Wizard Smart Control Panel
With the ability to control every pitch, this 3 wheel pitching machine can throw virtually any pitch. Find the pitch you want with the spin direction and spin amount, and then turn the speed up with the pitch speed knob! Your limits here are truly endless. The amount of control given by the Spinball Wizard 3-wheel pitching machine is unmatched. Most pitching machines only have knobs labeled 0-10 and a chart, limiting your control. With Spinball's patented smart control panel, you have the most control! 

Dialing In Speed on Your Pitching Machine
Between the three dials, speed, spin direction, and spin amount, you can easily dial in any pitch you want. To change the speed of a pitch, simply turn the dial to the desired speed. The speeds on the dial are calibrated to a regulation baseball so that softballs may be up to 10% slower than the dialed speed, and dimpled balls may travel slightly faster. For more information on using the Smart Control Panel, see the Spinball user's manual here.
Full Control Over

 

Every

 

Pitch 
A thrown ball curves in the direction of its spin. The faster the spin, the more it curves. Fastballs have backspin, which causes them to rise or at least fall slower than they otherwise would. Sinkers and curves have topspin, causing them to drop. Knuckleballs ideally have no spin at all and move randomly. When you set the spin angle and amount on the control panel, the machine automatically adjusts the wheel speeds to spin the ball in any direction to simulate virtually any pitch.
Spin Direction for Baseball Pitches
Spin Direction for Softball Pitches
Pitching Machine Portability - Large Transport Wheels
The Spinball Wizard 3 wheel pitching machine also comes equipped with large transport wheels on the machine. This makes the pitching machine very portable and easy to move on and off the field, as well as around the field during practice. 
Top Quality Motors
Spinball industrial-grade, American made motors feature oversized, hardened stainless steel shafts to ensure a long life. Unlike other machines, Spinball motors are protected by the 1/4" steel frame, not exposed to batted balls. With their machines, one line drive can cost you up to $400 in repairs.
Download the Spinball Wizard 3 Wheel Pitching Machine User's Manual Here!
Anytime Baseball Supply - Free Shipping On All Ground Shipment Orders Over $49! 
Order Confirmation and Shipment
As soon as you place your order, you will receive an automated confirmation email from us. Once the payment is processed, we will ship your product as soon as possible. All products usually ship out within 1-2 business days, unless otherwise noted. If the item you ordered is unavailable or on backorder, we will reach out to you via e-mail or phone to let you know. If you decide to wait for the backordered product to come back into stock, we will capture the payment and your card will be charged. Items in stock can take 1-3 business days to ship. After the order is processed and shipped from our warehouse, you will receive a tracking number via email. With the tracking number you can track your package and get an estimated time of delivery. If you do not receive a confirmation email or a tracking number, feel free to contact us at support@anytimebaseballsupply.com. *Some large items like the Mastodon Batting Cage are subject to shipping fees due to the large size and nature of the product. 
Free Shipping
Anytime Baseball Supply has Free Shipping everyday on all orders over $49. Some restrictions do apply. Here's the details:
Free Shipping method will be selected by Anytime Baseball Supply. Free shipping orders will be delivered via a standard ground shipping method.
Offer does not apply to truck or freight shipments typical of oversized items. Some of the items we sell exceed the size limits for standard ground shipping and must be sent by truck or freight delivery.
Not available on international, Alaska, Hawaii, Puerto Rico or APO/FPO orders. Only standard ground shipping orders to residential and commercial addresses in the continental US are eligible for Free Shipping.
Damages
Before accepting any package, be sure to thoroughly inspect your item for damages. In the event that your package is damaged, take photos of the item and send them to support@anytimebaseballsupply.com. We will begin the return process and provide a return label free of cost to you. 
30 Day Returns and Cancellation Policy
Refunds on cancelled orders will be returned to the card that the order was placed on. You have 30 days from the day you received your order to return your product. If a delivery is refused for any reason other than a damaged product, a restocking fee will be charged to the card on file and you will be required to pay for return shipping on the product. We reserve the right to charge a 25% restocking fee on Sports Attack orders.
Can you use soft softballs in the machine? Like an indoor ball?

Hey,

You can use foam or dimpled balls with this machine as long as they are regulation size.


My pitching machine wheel that inches up and down won't lock in place when I lock it. It still Wants to move down like 5 inches when I lock it.

Hi,

For issues with your Spinball pitching machine, please contact the manufacturer directly at info@spinballsports.com.
They will be more knowledgeable in how to resolve any issues with your pitching machine.

When you order the BB XL & SB how many different types of leg sets do you get with pitching machine.

Hi,

You get two sets of legs, one for softball and one set of XL legs for Baseball.

What size baseballs can it throw

Hi,

The Spinball Wizard machines can any 9" baseballs.
When using regular leather baseballs, it is recommended that you use the ones with flat seams.

How fast does it throw a softball

Hi,

The speeds can be adjusted up to 100 MPH.

How long is it taking machines to come in once you order right now.

Hi,

Currently, it takes around 4-5 weeks to ship out upon placing an order.

What are the dimensions of the machine, width and depth?

Hi,

Approximately 42" wide and from the ground 5' 1/2" ft. tall, depth is about 3' ft.

Can you run this machine using a generator? If so. what generator do you recommend? Also, do you have details on the Spinny Mini that will be released in February. Thanks

Hi,

The manufacturer recommends a 1000 watt minimum for the Spinball Three Wheel.
Please send us an email a support@anytimebaseballsupply.com so we can send you the details for the Spinny Mini.

Can u use regulation/ regular baaeballs

Hi,

Yes, you can use regular leather baseballs.
However, the manufacturer recommends using flat seamed leather baseballs for better accuracy of pitches.

How large are the throwing wheels?

Hi,

The throwing wheels are 12 inches in diameter.

Does the batter have a clear view of the baseball the entire time? How long will the throwing wheels last? Will this machine last for the next 5 years?

Hi,

Yes, this pitching machine is designed so the batter will have a clearview of the ball as it throws them.
The life of the wheels will depend on how often the machine is used. So far we have not heard from the owners of this machine that they need to replace the throwing wheels.
The wheels will last more than 5 years even if you use them frequently.

Does it come with a pitch chart and dial adjustments? Can it be used for both baseball and softball? If so, are there leg adjustments included for softball? Can a ball shoot be added?

Hi Charlie,

Thank you for asking us a question, this machine comes with a pitch chart which is found on the manual and it does have the dial/knob adjustments as well. If you need this machine for baseball and softball, we do have the option for you to purchase the baseball and softball version of this machine, which should come with separate legs and a bigger feeder to accomodate softballs.

Pitch Pro Support

Can this machine be used with the Honda Model EU2200i Generator.

Hi Chris,

Thank you for reaching out to us. Yes that generator should work fine with this machine, the manufacturer recommends at least a 1000w generator.

Pitch Pro Support

Do you have a video of how to change from baseball to softball. I'd like to see how complicated it is before I purchase

Hi, thank you for your interest in this product. Please, see separate email sent to your email address.