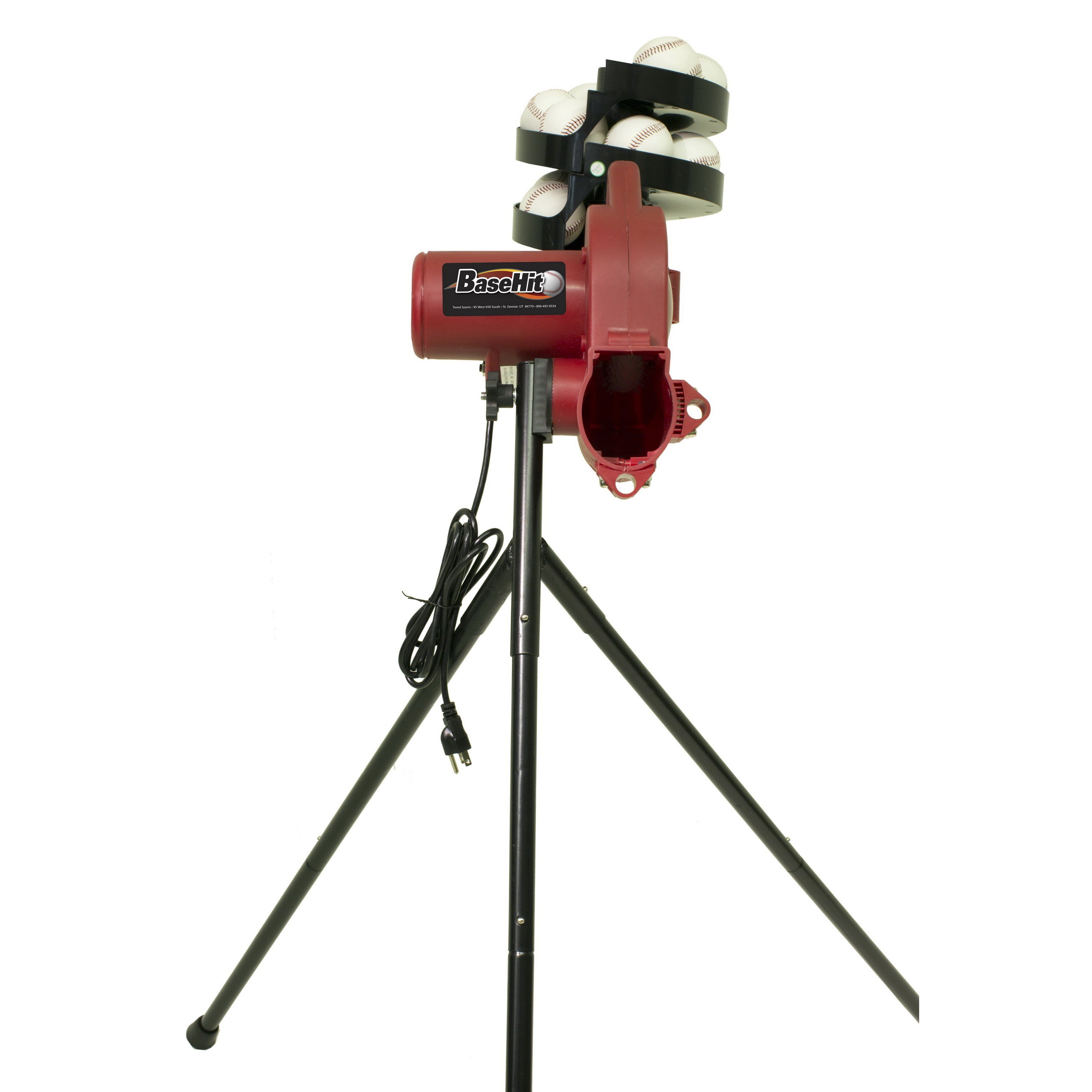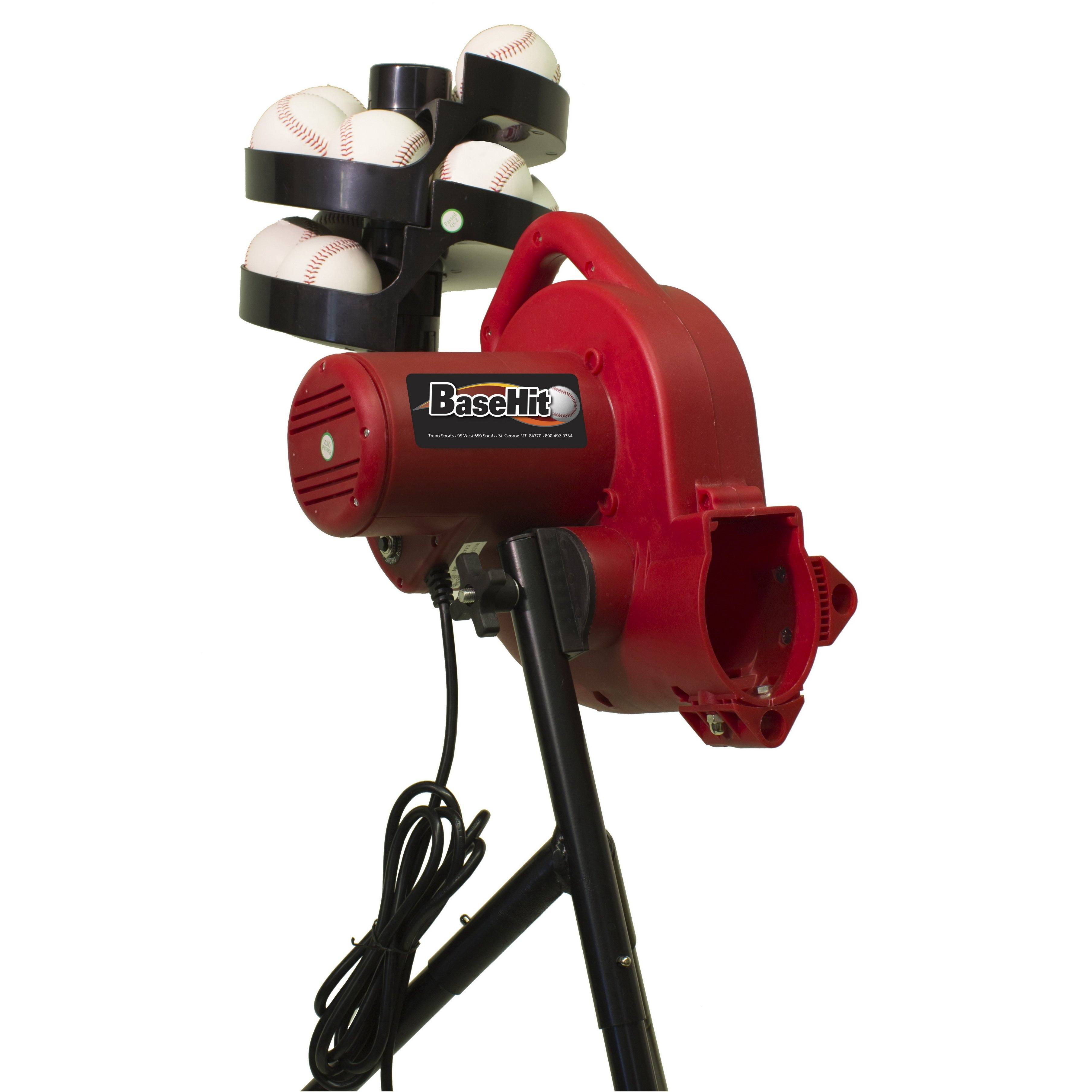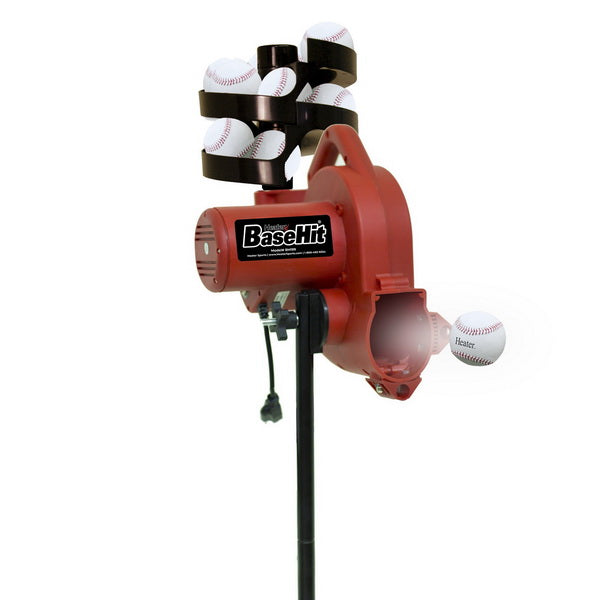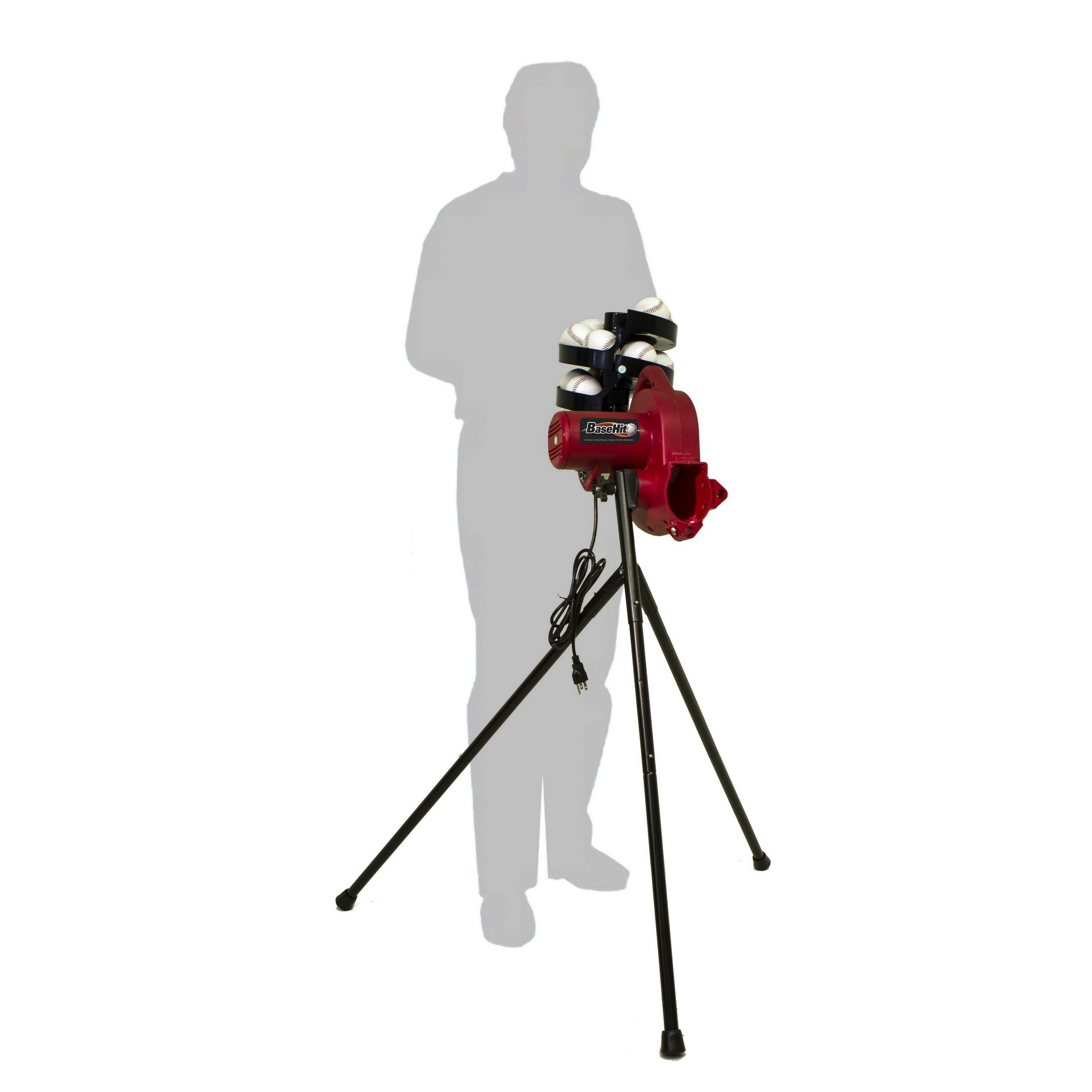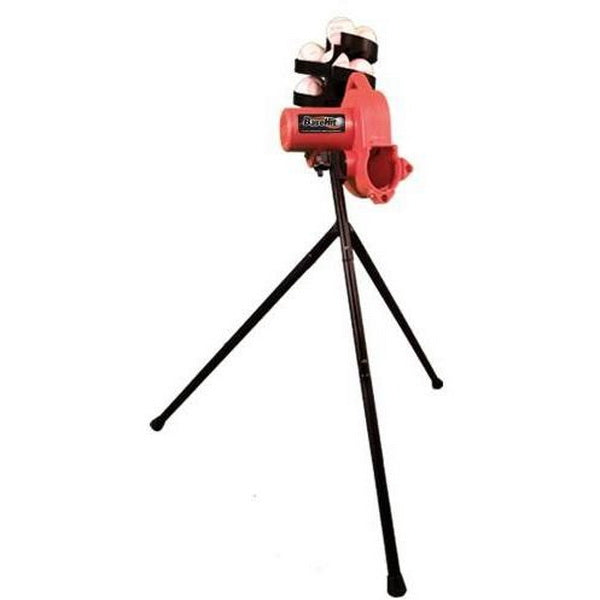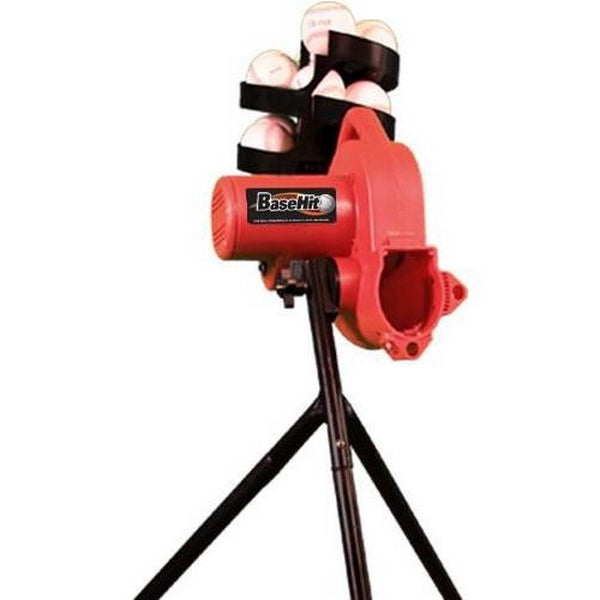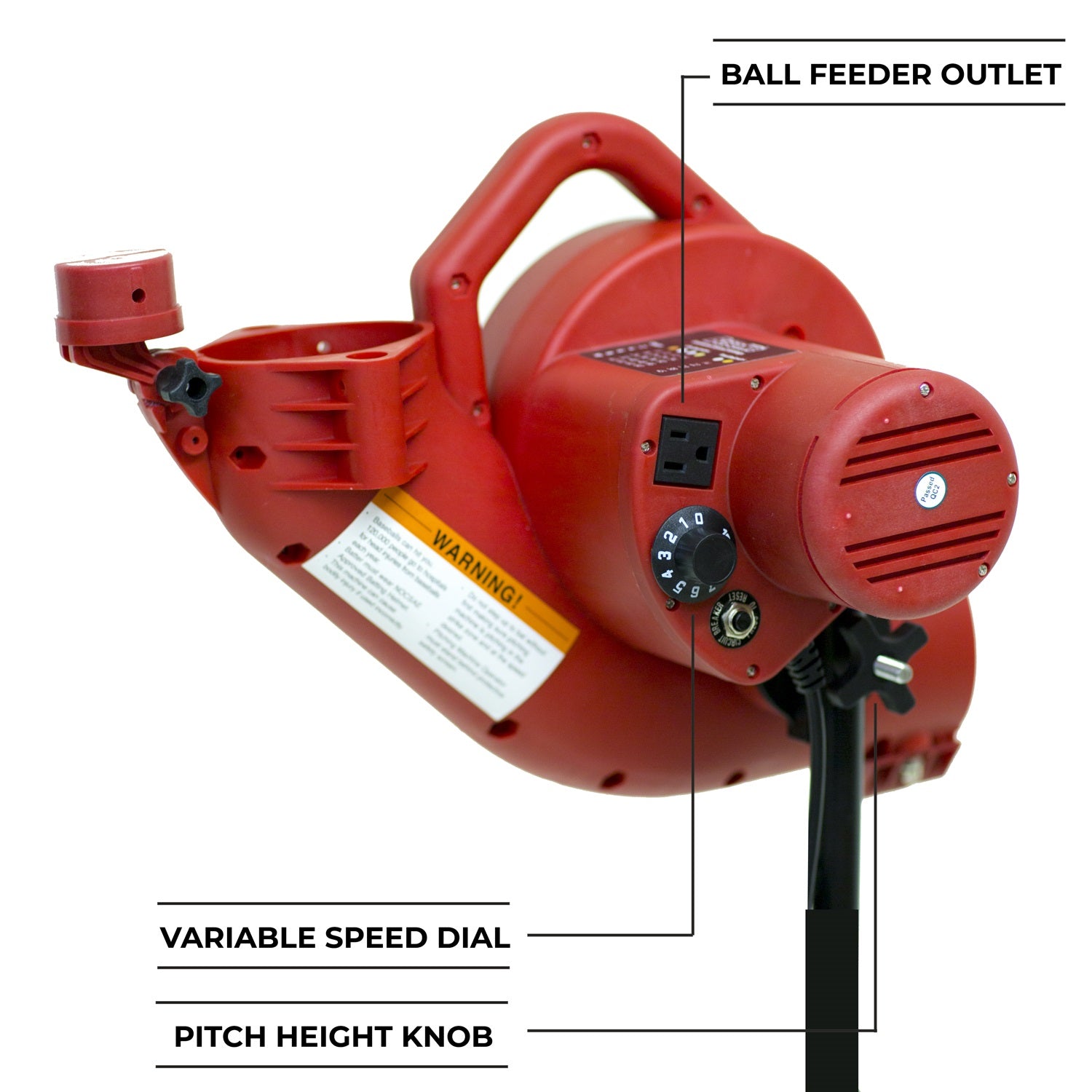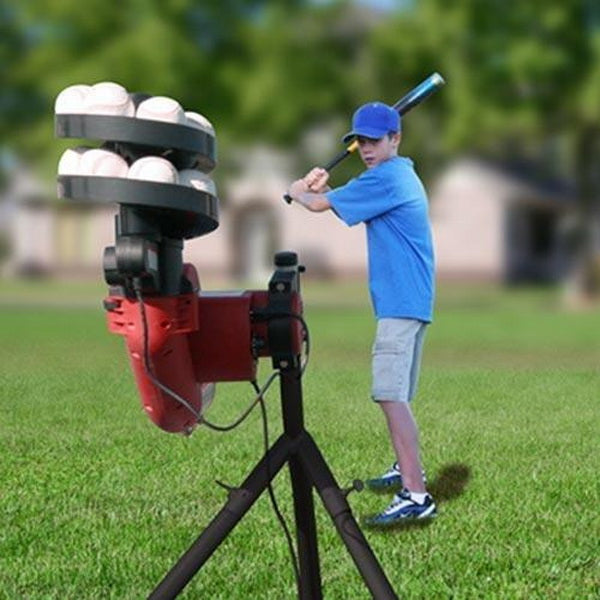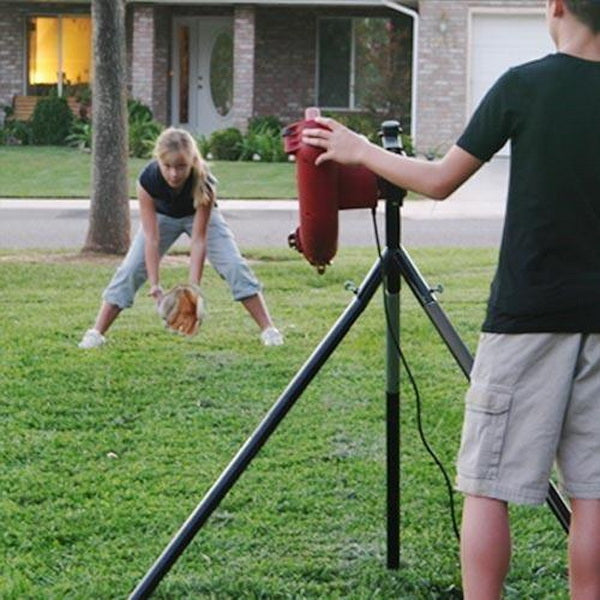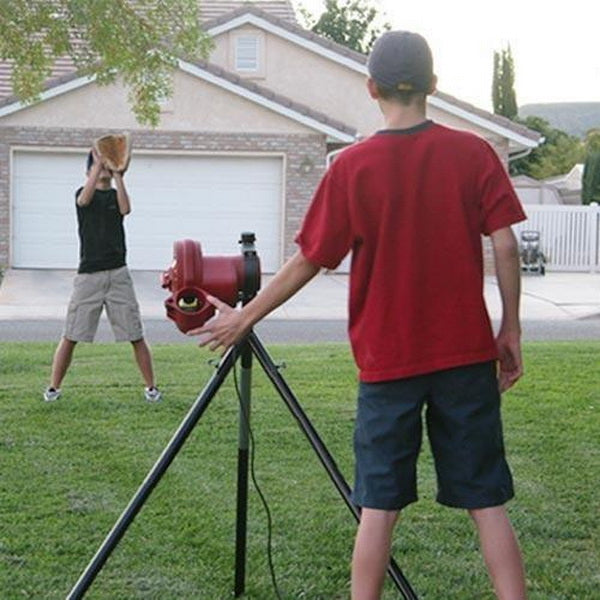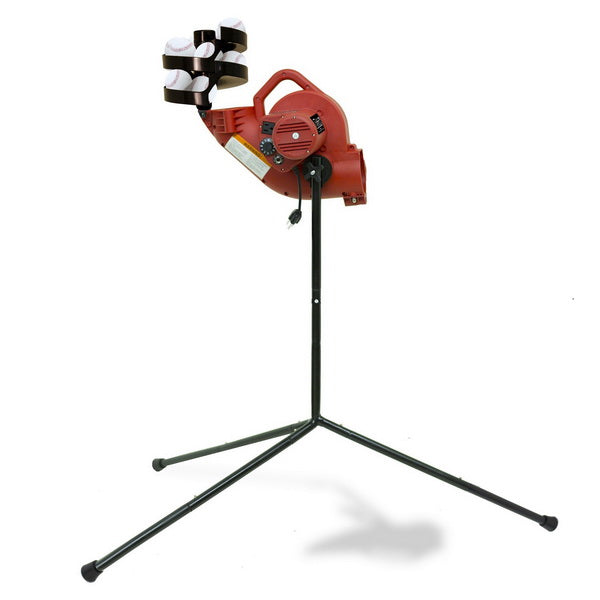 Heater Sports BaseHit Baseball Pitching Machine
Free Shipping!
Talk to an expert(888) 466-0009
Performance Improvement Pledge45-Day Guarantee: Improve skills or receive a refund! Learn More.

Heater BaseHit Portable Baseball Pitching Machine
Is BP just not cutting it these days? Sometimes it's hard to rely on a decent pitcher to throw you some good pitches to keep your game sharp. Look no further, the Heater BaseHit Real Baseball Machine is the best pitching machine for kids! 
With pitching capabilities up to 45 MPH, the BaseHit Real Baseball machine is great for kids from ages 5 all the way up to adults. BaseHit's revolutionary design incorporates a fast spinning motor and small covered wheel to safely pitch balls with the world's most compact pitching machine ever developed.
This pitching machine is also capable of pitching at different speed variables, which is great for changing the pitches up and keeping the batter's eye sharp. There is also a height adjustment feature for people of different height. This compact pitching machine is lightweight and portable, just plug and play!
Easy Pitching Machine Assembly
The BaseHit baseball machine features an easy assembly: Simply open the box and snap three tubular steel legs into the tri-pod stand, attach BaseHit's high-impact composite pitching housing with two quick-attach knobs. Connect the 12 ball auto ball feeder. Plug the power cord into an electrical outlet and in a matter of seconds, you're ready to hit from your very own pitching machine!
Baseball Pitching Machine Features
Comes with 1 Poly Pitching Machine Baseball for perfect baseball accuracy
Pitches real baseballs and lite baseballs
Variable speed control & dual bearing electric motor pitches baseballs up to 45 mph.
6" Wheel cushions the balls and pitches consistent strikes every time
Automatic Feeder delivers a ball every 10 seconds
Rugged composite pitching machine housing to protect you from spinning wheel
Adjustable pitch height knob to get the pitch height you want.
Heavy-duty tubular steel tripod stand with pushpin legs for quick assembly
Built-in machine harness attaches to Trend Sports home batting cages
Pitching Machine Specs
Model #: BH199 – With Ball Feeder
Real Baseball and Lite-Ball Pitching Machine
A/C Power
Recommended Ages: 5 years to Adult
Guarantee & Warranty:
One Year Parts & Labor Warranty
Download the Heater Sports BaseHit Pitching Machine Owner's Manual Here!
Anytime Baseball Supply - Free Shipping On All Ground Shipment Orders Over $49! 
Order Confirmation and Shipment
As soon as you place your order, you will receive an automated confirmation email from us. Once the payment is processed, we will ship your product as soon as possible. All products usually ship out within 1-2 business days, unless otherwise noted. If the item you ordered is unavailable or on backorder, we will reach out to you via e-mail or phone to let you know. If you decide to wait for the backordered product to come back into stock, we will capture the payment and your card will be charged. Items in stock can take 1-3 business days to ship. After the order is processed and shipped from our warehouse, you will receive a tracking number via email. With the tracking number you can track your package and get an estimated time of delivery. If you do not receive a confirmation email or a tracking number, feel free to contact us at support@anytimebaseballsupply.com. *Some large items like the Mastodon Batting Cage are subject to shipping fees due to the large size and nature of the product. 
Free Shipping
Anytime Baseball Supply has Free Shipping everyday on all orders over $49. Some restrictions do apply. Here's the details:
Free Shipping method will be selected by Anytime Baseball Supply. Free shipping orders will be delivered via a standard ground shipping method.
Offer does not apply to truck or freight shipments typical of oversized items. Some of the items we sell exceed the size limits for standard ground shipping and must be sent by truck or freight delivery.
Not available on international, Alaska, Hawaii, Puerto Rico or APO/FPO orders. Only standard ground shipping orders to residential and commercial addresses in the continental US are eligible for Free Shipping.
Damages
Before accepting any package, be sure to thoroughly inspect your item for damages. In the event that your package is damaged, take photos of the item and send them to support@anytimebaseballsupply.com. We will begin the return process and provide a return label free of cost to you. 
30 Day Returns and Cancellation Policy
Refunds on cancelled orders will be returned to the card that the order was placed on. You have 30 days from the day you received your order to return your product. If a delivery is refused for any reason other than a damaged product, a restocking fee will be charged to the card on file and you will be required to pay for return shipping on the product. We reserve the right to charge a 25% restocking fee on Sports Attack orders.
can you get replacement parts for this machine

Hi,

Yes, replacements can be purchased for this machine.
Please send us an email at support@anytimebaseballsupply.com with the details for what you need.

Can the pitching wheel be purchased and replaced on the model BH-199 pitching machine

Hi,

Yes, please reach out to Heater Sports for the replacement wheel.

Will this machine throw curveballs?

Hi,

No, the Heater Sports Basehit cannot throw curveballs.

HI! Can this be used for tennis returns too?

Hi,

The Heater Sports Basehit is not designed for tennis balls.

Whats the difference between using a regular baseball and the pitching machine balls?

Hi,

Regular leather baseballs have protruding seams that usually gets caught up with the throwing wheels of the machine and this usually causes inaccurate pitches.
Pitching machine leather baseballs has flat seams that won't get caught up by the wheel.

How far will this pitch a standard baseball?

Hi,

This machine is usually used 45 feet away from the plate.

What size softballs can be used

Hey Jason,

Thanks for dropping by and asking us a question, this particular machine is for baseball and it cannot throw softballs. The link below has our collections of softball machines.
https://pitchprodirect.com/collections/softball-pitching-machines
If you have any more questions you can email us too, at support@pitchprodirect.com we do have a quick response time on emails during business hours.

Thank you!

Pitch Pro Direct

What is the amps or watts? Thanks!

Hi Karen,

Thanks for the question, this machine runs on about 200 watts.

Pitch Pro Support

Does this work with standard baseballs?

Hi Bandy,

Thanks for the questions! Yes it does work with standard baseballs.

PitchPro

Is there a battery pack available for this model?

Hi Al,

There are currently no battery pack available for this machine, If ever you're gonna use a battery for this machine don't forget to use and inverter as this machine runs on AC power.

Thank you.

Pitch Pro Support

Can softballs be used in place of bsdenslls

Hi, thank you for your inquiry; however, may we know what you mean?

Does this come with balls? Can I use generic balls or does it have to be bought from heater sports?

Hello, thank you for your inquiry. This listing does not come with balls yet. You can use generic balls for this machine as long as it is compatible with it.

is there a battery pack for model BH199

Hi, thanks for your inquiry. Yes and it is sold separately.