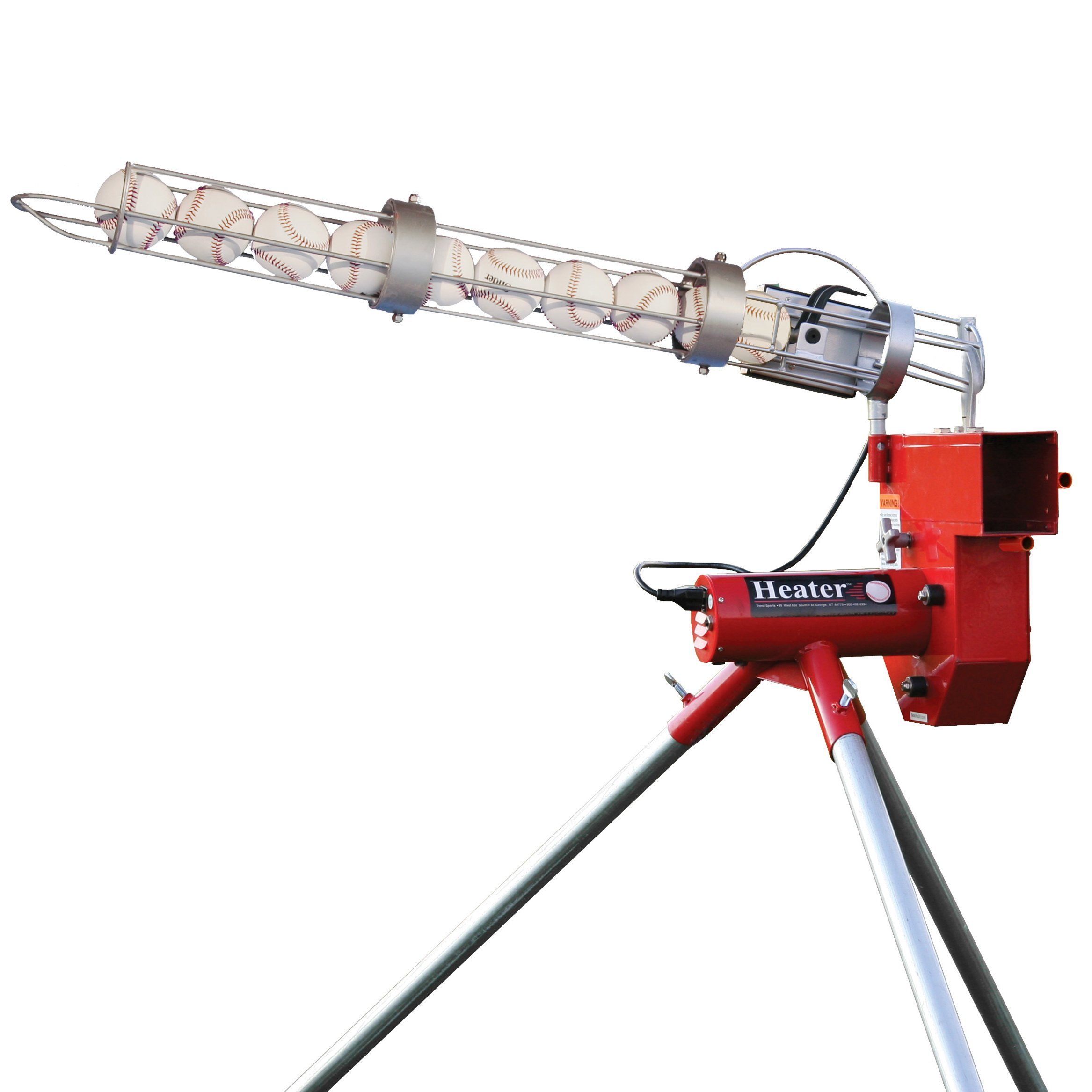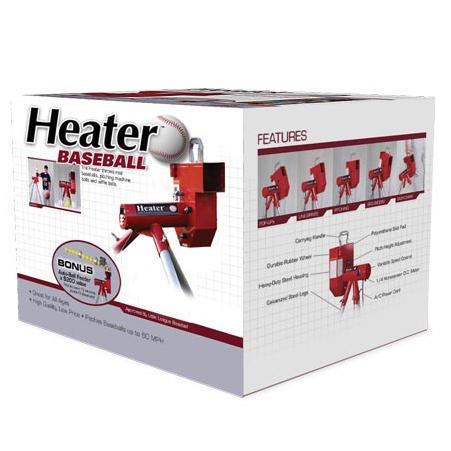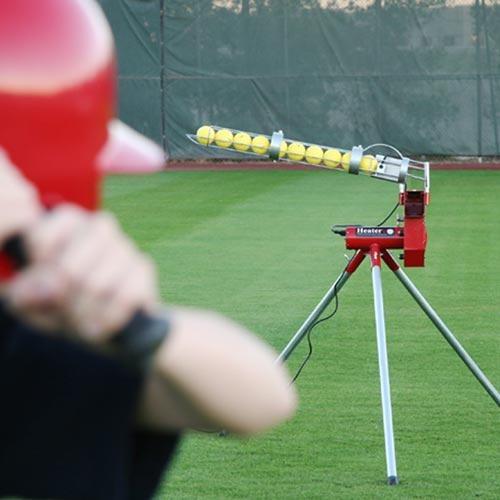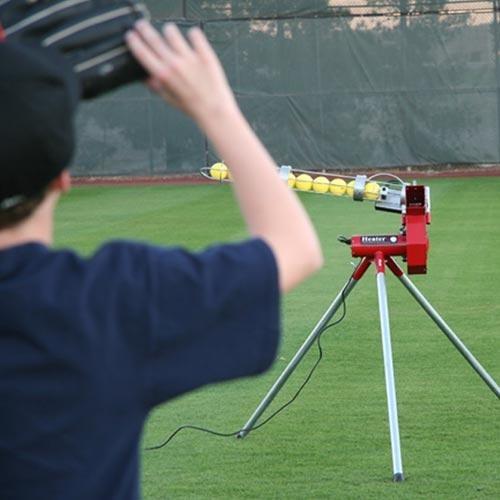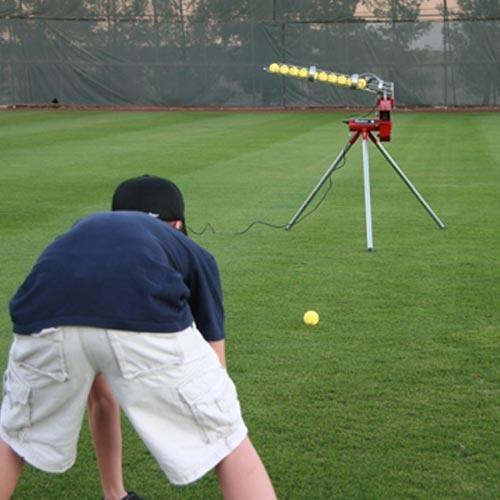 Heater Sports Real Baseball Pitching Machine with Auto Ball Feeder
Free Shipping!
Talk to an expert(888) 466-0009
Performance Improvement Pledge45-Day Guarantee: Improve skills or receive a refund! Learn More.

Heater Sports Real Baseball Pitching Machine With Automatic Ball Feeder - HTR6000BBC
Get more bang for your buck with the Heater Sports Real Baseball pitching machine. This machine can throw baseballs at speeds of up to 52 mph, comes equipped with an automatic ball feeder, and costs less than $500, making it one of the best value pitching machines. This baseball pitching machine is perfect for players ages 12 and up, or for any pickup sunday leagues. The Real baseball pitching machine can be plugged into any standard wall outlet, making setup easy, and practicing even easier.
1/4 Horsepower motor
The powerful 1/4 horsepower motor throws baseballs at variable speeds up to 52 miles per hour.

Pitching Machine Tilt Adjustment
With a simple tilt adjustment you can also catch grounders and fly-balls.
Easy Plug & Play Design 
Easily plug your Heater Sports pitching machine into any standard wall outlet and play ball! The Real baseball machine also works with battery pack and generators.
FREE Automatic Ball Feeder
The Real Baseball machine also comes with a FREE automatic ball feeder that holds 12 baseballs. 
Infield & Outfield Drills with the Real Baseball Pitching Machine
Only have a few teammates to practice with? No problem! With this pitching machine, you are able to practice infield and outfield drills! Tilt the machine up to throw you some pop flies, or point it down and get better at fielding those grounders. Infield and outfield drills work great with somebody standing at the machine feeding it balls and changing the direction of the balls to keep your eyes sharp. Don't settle for a pitching machine that only servers one purpose, baseball is much more than that!  
Pitching Machine Convenience
Plug the Heater into any standard wall outlet or third party battery packs may be available for convenience. You may also consider the Power Alley or Xtender Home Batting Cages so you can improve your hitting right in your own backyard.
Pitching Machine Features
Throws Pop-ups, Line Drives, and Grounders
Infield & Outfield Drills
Variable Speed Control
Pitches Baseballs Up To 52 MPH
12 Ball Automatic Feeder
Fully Enclosed Wheel
Adjustable Pitch Height
Tubular Steel Legs with Rubber Tips
Uses Standard A/C Power
Adjustable Speed Control adjusts for a variety of pitch speeds
Fully Enclosed Wheel provides maximum safety
Automatic Feeder delivers a ball every 10 seconds
Strong Steel Legs for stability
Pitching Machine Specs
Model #: HTR6000BB – With Ball Feeder
Weight: 47 lbs.
A/C Power
Recommended Ages: 8 years to Adult
One Year Warranty
Real Baseball, Pitching Machine Ball, and Lite-Ball Pitching Machine
Anytime Baseball Guarantee
Customer satisfaction guaranteed!
30 day no hassle returns!
Lowest prices guaranteed
We offer coupons on the Heater Real Baseball machine from time to time!
FREE shipping and no sales tax in the USA
Download the Heater Sports Real Baseball Pitching Machine Instruction Manual Here!
Anytime Baseball Supply - Free Shipping On All Ground Shipment Orders Over $49! 
Order Confirmation and Shipment
As soon as you place your order, you will receive an automated confirmation email from us. Once the payment is processed, we will ship your product as soon as possible. All products usually ship out within 1-2 business days, unless otherwise noted. If the item you ordered is unavailable or on backorder, we will reach out to you via e-mail or phone to let you know. If you decide to wait for the backordered product to come back into stock, we will capture the payment and your card will be charged. Items in stock can take 1-3 business days to ship. After the order is processed and shipped from our warehouse, you will receive a tracking number via email. With the tracking number you can track your package and get an estimated time of delivery. If you do not receive a confirmation email or a tracking number, feel free to contact us at support@anytimebaseballsupply.com. *Some large items like the Mastodon Batting Cage are subject to shipping fees due to the large size and nature of the product. 
Free Shipping
Anytime Baseball Supply has Free Shipping everyday on all orders over $49. Some restrictions do apply. Here's the details:
Free Shipping method will be selected by Anytime Baseball Supply. Free shipping orders will be delivered via a standard ground shipping method.
Offer does not apply to truck or freight shipments typical of oversized items. Some of the items we sell exceed the size limits for standard ground shipping and must be sent by truck or freight delivery.
Not available on international, Alaska, Hawaii, Puerto Rico or APO/FPO orders. Only standard ground shipping orders to residential and commercial addresses in the continental US are eligible for Free Shipping.
Damages
Before accepting any package, be sure to thoroughly inspect your item for damages. In the event that your package is damaged, take photos of the item and send them to support@anytimebaseballsupply.com. We will begin the return process and provide a return label free of cost to you. 
30 Day Returns and Cancellation Policy
Refunds on cancelled orders will be returned to the card that the order was placed on. You have 30 days from the day you received your order to return your product. If a delivery is refused for any reason other than a damaged product, a restocking fee will be charged to the card on file and you will be required to pay for return shipping on the product. We reserve the right to charge a 25% restocking fee on Sports Attack orders.
When do you expect to get another shipment in?

Hi,

The current update we have for restocking is August 23, 2021.

Can ball feeder be remote start stop controlled?

Hi,

No, the ballfeeder needs to be manually turn on and off.

Does it come with the battery pack? If not, do you have them to buy and if so, how much are they?

Hi,

Sorry, they do not come with a battery pack but I'm sure you can hook one up to it.
We do not sell those batteries though.

The manufacturer recommends at least a 1000w 75 amp/hour deepcycle marine batteries for these machines.
Unfortunately, we are really not familiar with where you can get those batteries either.

How far should the baseball's be able to travel?

Hi Ryan,

Thanks for dropping by, this machine can throw balls up to 52 MPH at 45 feet. If what you're asking is how far will the ball will actually go beyond 45 feet, sadly this machine has not been tested in that manner.
What we know is that after 45 feet the ball will continue to fly with decreased speed and accuracy until it falls to the ground.

If you have anymore questions please feel free to let us know.

Thank you!

Pitch Pro Support

Do you sell parts for this pitching machine ? I'm looking for the pitching control switch to regulate speed of throws.

H Jairo,

Thank you for asking us a question. Unfortunately we do not sell parts for this machine at the moment.

Pitch Pro Support

Where would I get replacement parts for this machine if needed?

Hello, thank you for your inquiry. It would be best to check with the manufacturer, Heater Sports, directly.