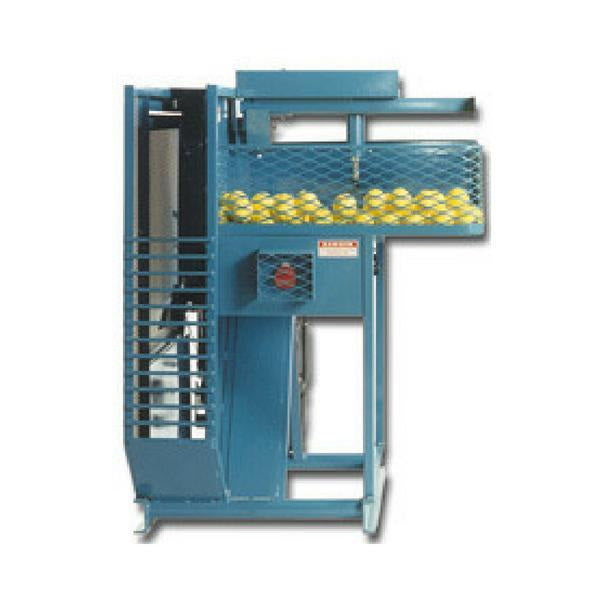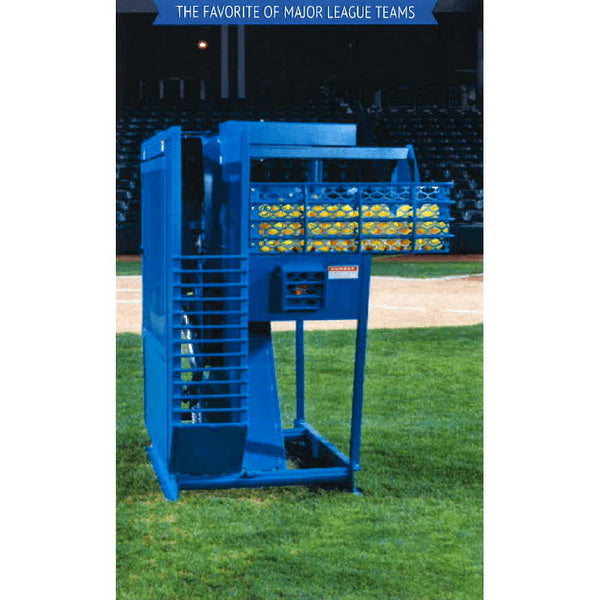 Iron Mike MP-4 Pitching Machine
Free Shipping!
Talk to an expert(888) 466-0009
Performance Improvement Pledge45-Day Guarantee: Improve skills or receive a refund! Learn More.

MP-4 Pitching Machine From Iron Mike
The Iron Mike MP-4 arm style pitching machine is similar to the MP-6 in that they both have capabilities of pitching at speeds of 25-80 mph. However, the main difference here is that the MP-4 comes with a sturdier frame and extra reinforcements to protect the machine against line drives and hard hit balls, making it a better option for batting cages,
The MP-4 also comes equipped with Iron Mike's signature Positive Feed Control, that ensures that seamed baseballs flow through the hopper into the machine flawlessly. This pitching machine holds 600 baseballs or 400 softballs and is the perfect choice for any baseball/ softball team looking to step up their batting skills. 
This pitching machine is a great option for commercial batting cages, training facilities, and baseball clubs. 
MP-4 Pitching Machine Features 
Arm style pitching machine helps batter with timing
Throws 25-80+ MPH
Hopper feed holds 600 baseballs or 400 softballs
Pitches baseballs, fast pitch softball, and slow pitch softball
Built in remote control with 80' cord
Comes with hold-down clips for permanent installation
Comes with lockable arm cover
Sturdy steel frame 
Extra reinforcements on the frame of the machine to protect against line drives.
Comes with positive feed control to ensure good ball flow with seamed balls
57" H x 44" W x 59" L
Weight 625 lbs.
Made in the USA 

Click here to download the Iron Mike MP-4 Pitching Machine Operating and Maintenance Instructions
Anytime Baseball Supply - Free Shipping On All Ground Shipment Orders Over $49! 
Order Confirmation and Shipment
As soon as you place your order, you will receive an automated confirmation email from us. Once the payment is processed, we will ship your product as soon as possible. All products usually ship out within 1-2 business days, unless otherwise noted. If the item you ordered is unavailable or on backorder, we will reach out to you via e-mail or phone to let you know. If you decide to wait for the backordered product to come back into stock, we will capture the payment and your card will be charged. Items in stock can take 1-3 business days to ship. After the order is processed and shipped from our warehouse, you will receive a tracking number via email. With the tracking number you can track your package and get an estimated time of delivery. If you do not receive a confirmation email or a tracking number, feel free to contact us at support@anytimebaseballsupply.com. *Some large items like the Mastodon Batting Cage are subject to shipping fees due to the large size and nature of the product. 
Free Shipping
Anytime Baseball Supply has Free Shipping everyday on all orders over $49. Some restrictions do apply. Here's the details:
Free Shipping method will be selected by Anytime Baseball Supply. Free shipping orders will be delivered via a standard ground shipping method.
Offer does not apply to truck or freight shipments typical of oversized items. Some of the items we sell exceed the size limits for standard ground shipping and must be sent by truck or freight delivery.
Not available on international, Alaska, Hawaii, Puerto Rico or APO/FPO orders. Only standard ground shipping orders to residential and commercial addresses in the continental US are eligible for Free Shipping.
Damages
Before accepting any package, be sure to thoroughly inspect your item for damages. In the event that your package is damaged, take photos of the item and send them to support@anytimebaseballsupply.com. We will begin the return process and provide a return label free of cost to you. 
30 Day Returns and Cancellation Policy
Refunds on cancelled orders will be returned to the card that the order was placed on. You have 30 days from the day you received your order to return your product. If a delivery is refused for any reason other than a damaged product, a restocking fee will be charged to the card on file and you will be required to pay for return shipping on the product. We reserve the right to charge a 25% restocking fee on Sports Attack orders.
I need balls for my pitching machine size of a hard ball but do I get to them at

Hi Tim,

We do have quite a collection of baseballs and softballs on our site.

https://pitchprodirect.com/collections/balls

Thank you!

Pitch Pro

Hi. I'm looking to start batting cages in my town and am interested I'm these machines. My question is... is there a program to make the ball do so many pitches at a time? Like if someone just wants 20 pitches. Or if someone wants 50 pitches. Or say they want 15 mins worth of pitches.? Or like swip cards were we load the cards with so many pitches.

Hi,

Yes, but that invloves doing some modifications to the machine.
I know some people can add coin slots to it.
Unfortunately, we are not able to make those kinds of modifications.

I have a couple driving ranges … thinking of adding batting … is there some sort of ball picking machine that exist similar to the one made for golf balls

Hi,

Sorry, we do not carrry any kind of ball picking machine for baseball.
You may use a batting cage to stop the balls from flying too far.

Can the machine use regular baseballs and softballs, or only the yellow dimple balls?

Hi,

The Iron Mike machines can throw real leather baseballs and softballs.

What distance should this pitching machine sit at from batter?

Hi,

These machines are recommended to be placed at 60 feet from the plate.

Does the Master Pitch 761-103 come with a tablet like screen that can be setup for a customer to pick their pitch settings? Also looking for a swipe card feature the business can load on the customers card with pitches.

Hi,

No, the Iron Mike machines do not come with a touch screen control panel.

Can the machine pitch tennis balls? If so how fast? Looking for a machine that can pitch 110

Hi Russ,

The Iron Mike machines are designed for baseball and softball pitching, it might not work very well if used with tennis balls. We do have Tennis machines from Lobster Sports but as I checked they max at 80 MPH.
We are hoping we can have more tennis machines that fits the one you need soon.

Thanks,

Pitch Pro Direct

What size dimpled softballs can be used in M4?

Hi, 11 inch or 12 inch would do.