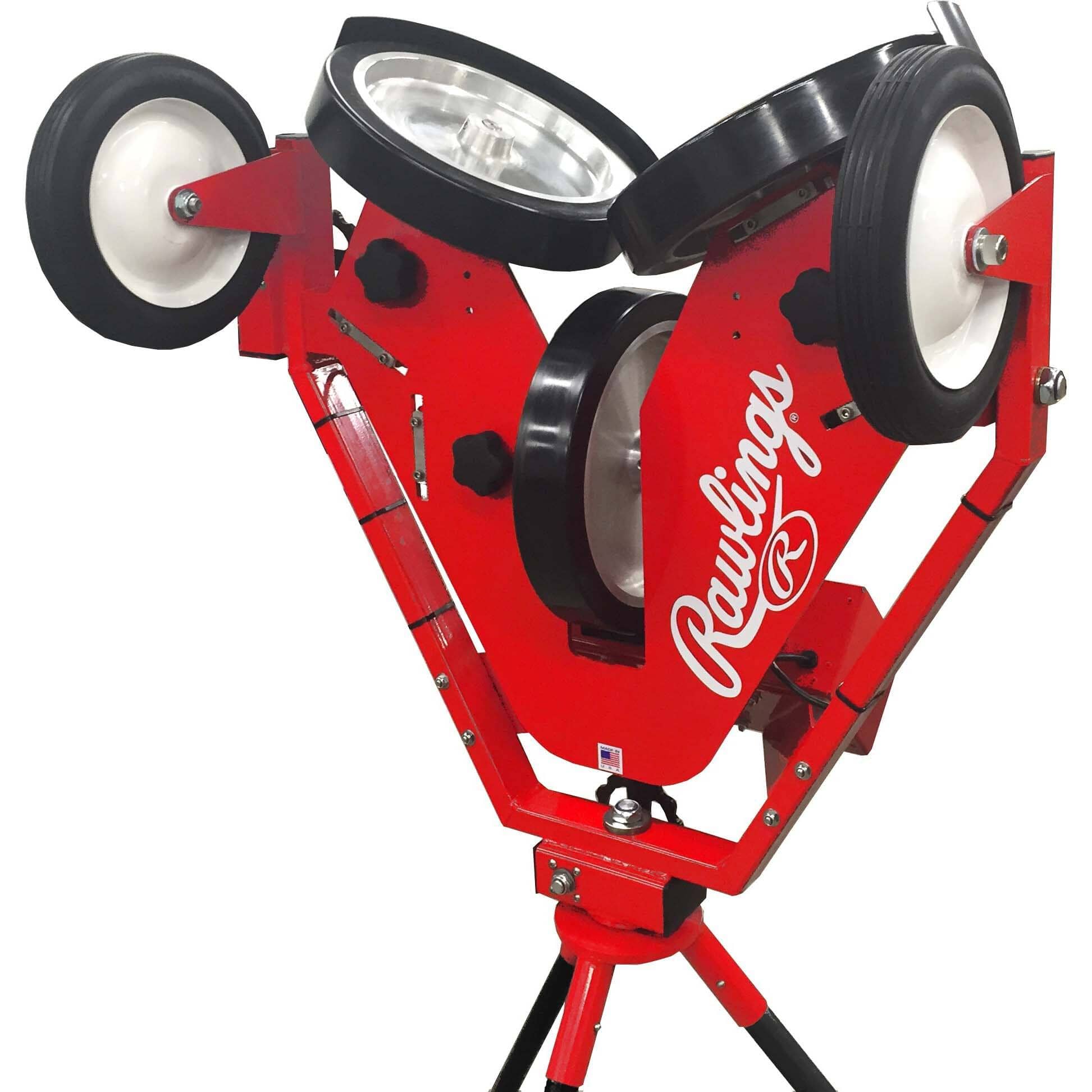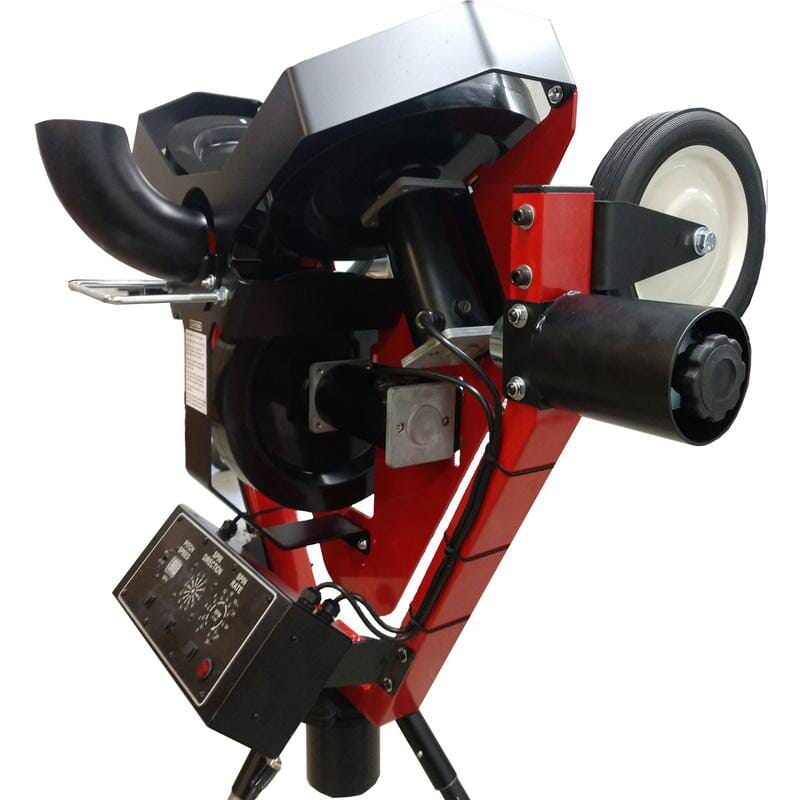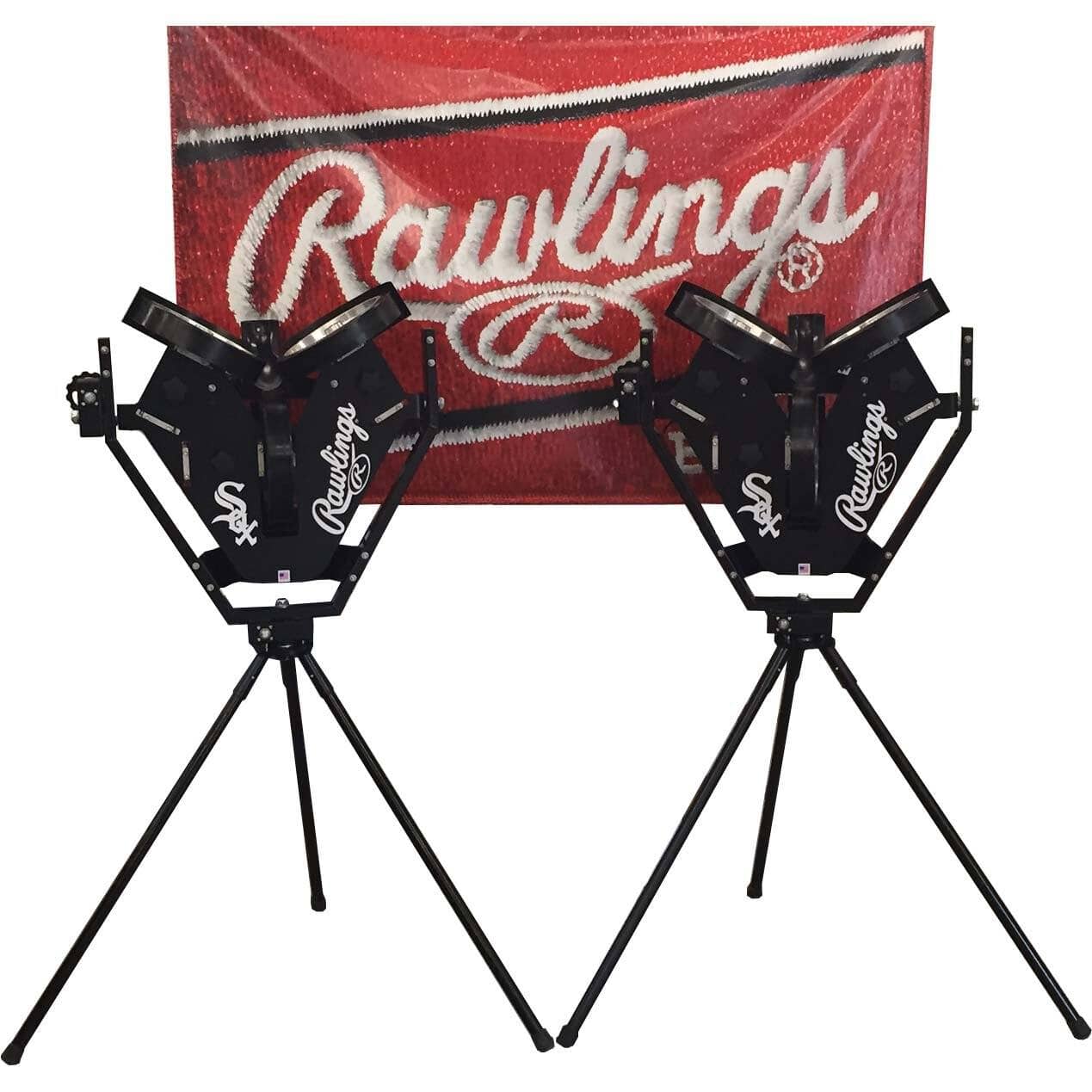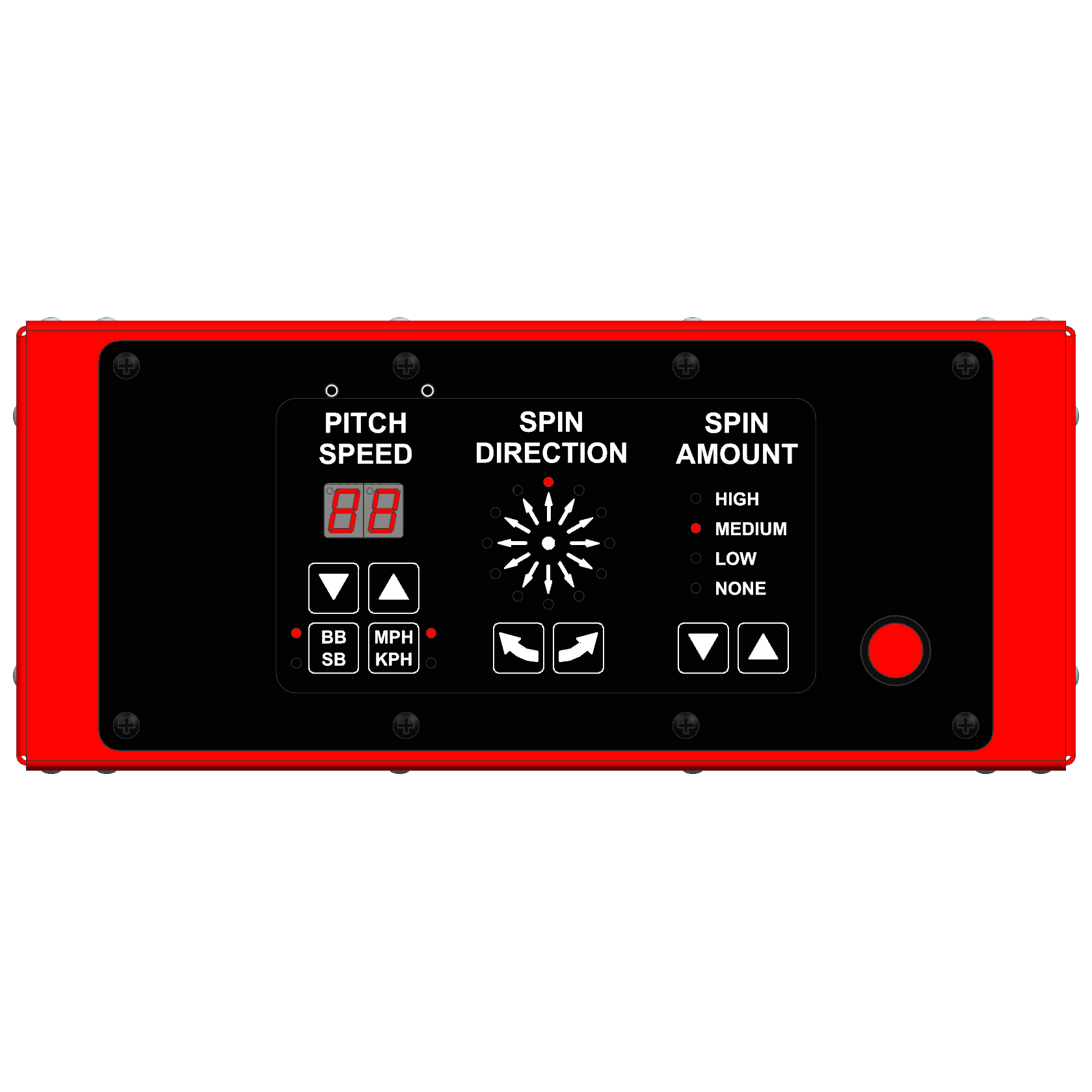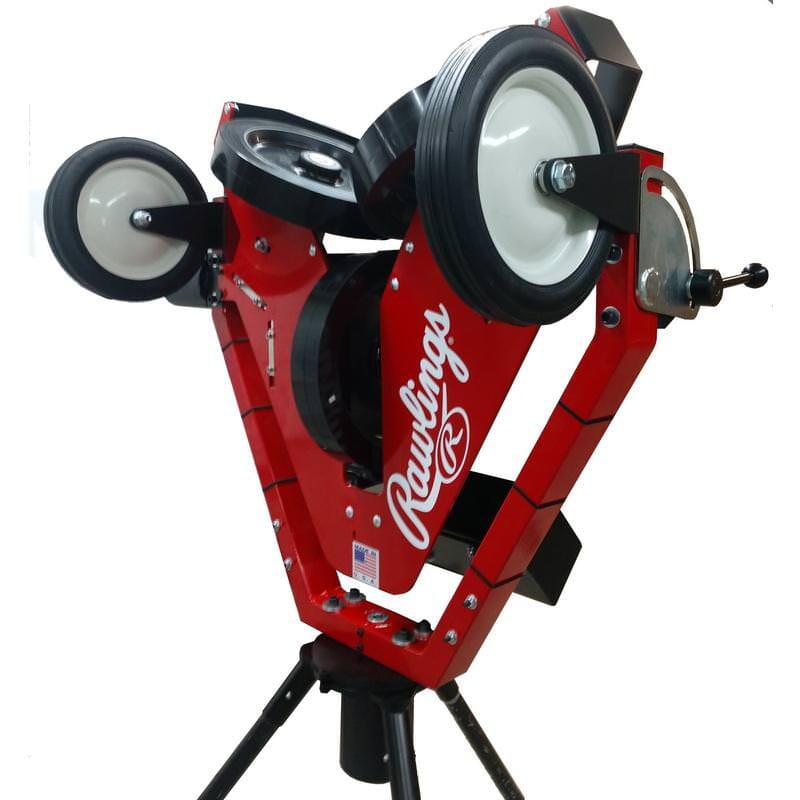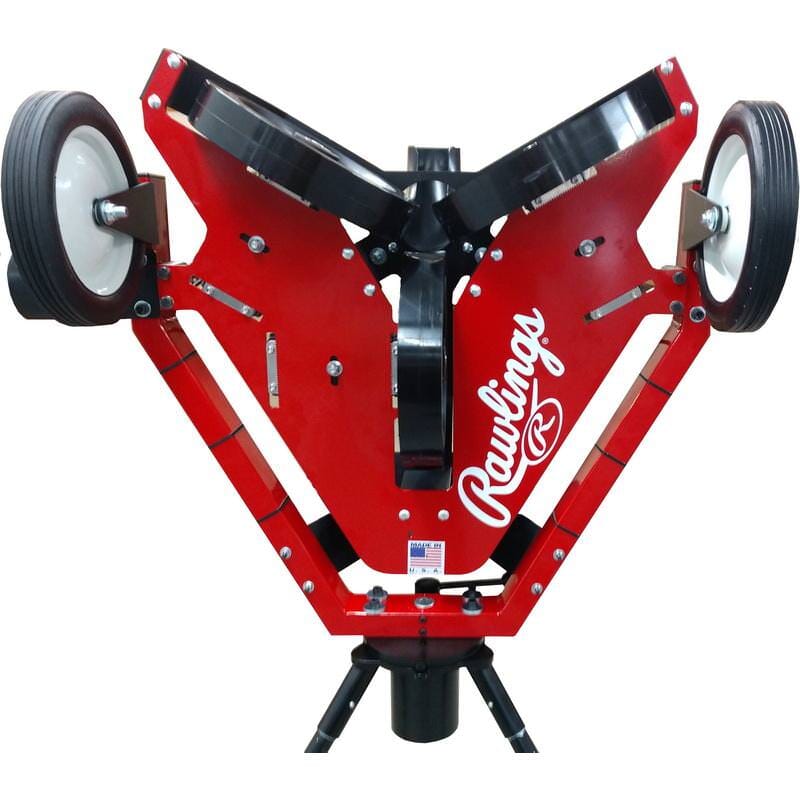 Rawlings Pro Line 3 Wheel Pitching Machine
Free Shipping!
Talk to an expert(888) 466-0009
Performance Improvement Pledge45-Day Guarantee: Improve skills or receive a refund! Learn More.

Rawlings Pro Line 3 Wheel Pitching Machine For Baseball, Softball, Or Baseball Softball Combo Machine
A preferred pitching machine of the Oakland A's, St. Louis Cardinals, Cleveland Indians, Texas Rangers and Chicago White Sox, the Rawlings Pro Line 3 Wheel Pitching Machine is truly at the top of its class. The Pro Line 3  features 3 wheels, all with 1" thick urethane tread and an iPitch control panel, giving you full control over every pitch. This pitching machine can throw virtually any pitch at speeds from 40-100 Mph with great accuracy.
Built with transport wheels as well as with a durable frame, this pitching machine is very portable and durable. Aside from throwing pitches, this pitching machine is capable of doing infield and outfield drills. With an all inclusive pitching machine like that, the Pro Line 3 is a must have for your next BP!
Rawlings Pitching Machine Features
3 pitching wheels ensure consistent accuracy
Pitching wheels constructed with 1" thick urethane treads
The iPitch control panel allows 37 different types of pitches to be thrown
Throws real baseballs, softballs, or pitching machine balls
Throws from 40-100 MPH
Easy to turn geared knobs to precisely control horizontal and vertical aim
Geared knobs allow for grounders and pop flies
Strong and durable steel legs and construction
Weighs only 120 lbs.
Motor is protected by steel frame
Different models accommodate for baseball, softball, or both! 
Large transport wheels for portability
Made in the USA
5 year manufacturer's warranty
iPitch Control Panel
The Rawlings Pro Line 3 features a state of the art control panel. The iPitch allows you to set the pitch speed, spin direction and spin amount. This allows you to pitch up to 37 different types of pitches, all at different speeds from 40-100 mph! With full control, you will be able to significantly increase the quality of your batting practice and yield awesome results.
Superior Pitching Machine Wheels
The Pro Line 3 features 1" thick urethane tread pitching wheels. This allows for less shock reverberation within the machine and allows for a much faster pitch recovery time. Less recovery time allows more pitches to be thrown with every batting practice session. Most other pitching machines use a 3/8" thick pitching tread which causes more shock to the machine and motor and also causes it to have an 8 second recovery time.
Quality Pitching Machine Motors
Rawlings industrial grade, American made motors feature oversized, hardened stainless steel shafts to ensure a long life. And unlike competing machines, Rawlings motors are protected by the 1/4" steel frame, not exposed to batted balls. With their machines, one line drive can cost you up to $400 in repairs.
Full Control Over Every Pitch with Spin Dial Controls
A thrown ball curves in the direction of its spin. The faster the spin, the more it curves. Fastballs have backspin, which cause them to rise, or at least fall slower than they otherwise would. Sinkers and curves have topspin, causing them to drop. Knuckleballs ideally have no spin at all and move randomly. When you set the spin angle and amount on the control panel, and the machine automatically adjusts the wheel speeds to spin the ball in any direction to simulate virtually any pitch. Just point the knob in the direction you want the ball to spin! See spin dial charts below.
Spin Dial For Baseball
Spin Dial For Softball
*Three optional leg heights provide a realistic release point for any player: 32" for softball, 60" for baseball and 73" for baseball-XL or cricket.*
Anytime Baseball Supply - Free Shipping On All Ground Shipment Orders Over $49! 
Order Confirmation and Shipment
As soon as you place your order, you will receive an automated confirmation email from us. Once the payment is processed, we will ship your product as soon as possible. All products usually ship out within 1-2 business days, unless otherwise noted. If the item you ordered is unavailable or on backorder, we will reach out to you via e-mail or phone to let you know. If you decide to wait for the backordered product to come back into stock, we will capture the payment and your card will be charged. Items in stock can take 1-3 business days to ship. After the order is processed and shipped from our warehouse, you will receive a tracking number via email. With the tracking number you can track your package and get an estimated time of delivery. If you do not receive a confirmation email or a tracking number, feel free to contact us at support@anytimebaseballsupply.com. *Some large items like the Mastodon Batting Cage are subject to shipping fees due to the large size and nature of the product. 
Free Shipping
Anytime Baseball Supply has Free Shipping everyday on all orders over $49. Some restrictions do apply. Here's the details:
Free Shipping method will be selected by Anytime Baseball Supply. Free shipping orders will be delivered via a standard ground shipping method.
Offer does not apply to truck or freight shipments typical of oversized items. Some of the items we sell exceed the size limits for standard ground shipping and must be sent by truck or freight delivery.
Not available on international, Alaska, Hawaii, Puerto Rico or APO/FPO orders. Only standard ground shipping orders to residential and commercial addresses in the continental US are eligible for Free Shipping.
Damages
Before accepting any package, be sure to thoroughly inspect your item for damages. In the event that your package is damaged, take photos of the item and send them to support@anytimebaseballsupply.com. We will begin the return process and provide a return label free of cost to you. 
30 Day Returns and Cancellation Policy
Refunds on cancelled orders will be returned to the card that the order was placed on. You have 30 days from the day you received your order to return your product. If a delivery is refused for any reason other than a damaged product, a restocking fee will be charged to the card on file and you will be required to pay for return shipping on the product. We reserve the right to charge a 25% restocking fee on Sports Attack orders.
Do you have replacement wheels for this machine.

Hi,

Sorry, we do not sell replacement parts for these machines.

Please reach out directly to info@spinballsports.com for the replacement wheels.

Can you switch the legs from regular to XL? If I order the regular, can I also order a set of the XL legs separately

Hi,

Yes, the legs can are interchangeable.
However, we do not sell the legs separately.

What do you suggest xl or reg for baseball. My kid is playing with kids that are 5' up to 6'

Hi,

I would recommend the regular legs.
Most of our customers prefer the regular legs as well.

Like to see the ball feeder and how many balls does it hold for the Rawlings Pro Line 3 Wheel Pitching Machine

Hi,

The feeder holds 35 baseballs or 29 softballs.

What's the difference in types you got for baseball and baseball xl

Hi,

The Baseball XL is the same machine with a bit taller legs to simulate a taller pitcher.

the standard rawlings pro line 3 has 60" release point and the xl version is 73" so if I buy the xl version can I also set it to 60" in other words do I get the standard machine and an extra set of legs to make it xl version when needed

Hi,

Unfortunately, the legs are not adjustable and you will only be receiving one set of legs.

what the difference between the rawlings pro line 3 and the spinball wizard 3

Hi,

The Rawlings and the Spinball are pretty much the same machine.
The only noticeable difference is that the advance digital control panel of the Rawlings which makes it easier to adjust the pitches.

Hello, Do you think I can roll this machine up to the back of my truck bed using a ramp by myself? Thanks

Hi,

Yes, this machine is designed so it would be easy to just roll it up a ramp to the back of your truck.
At 120 lbs. it shouldn't be hard to roll it up a ramp.

Pitch Pro Direct

Do you have a tarp that will cover this machine? I see that Hack Attack has one but I don't think it'll fit the Rawlings machine.

Hi Mary,

Unfortunately at the moment, we don't have any pitching machine cover specifically for the Rawlings machine.

Pitch Pro Direct