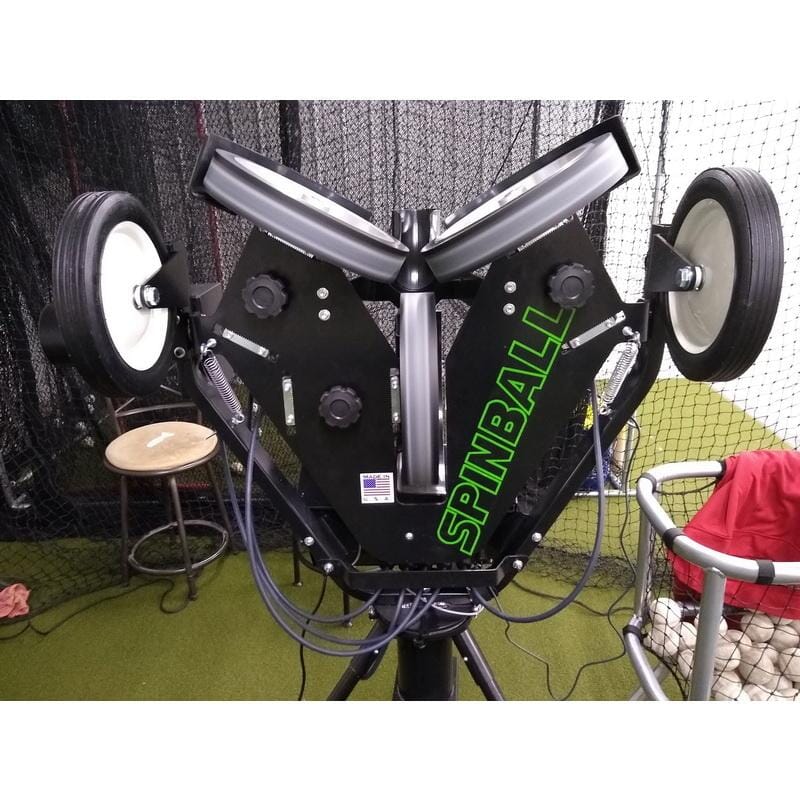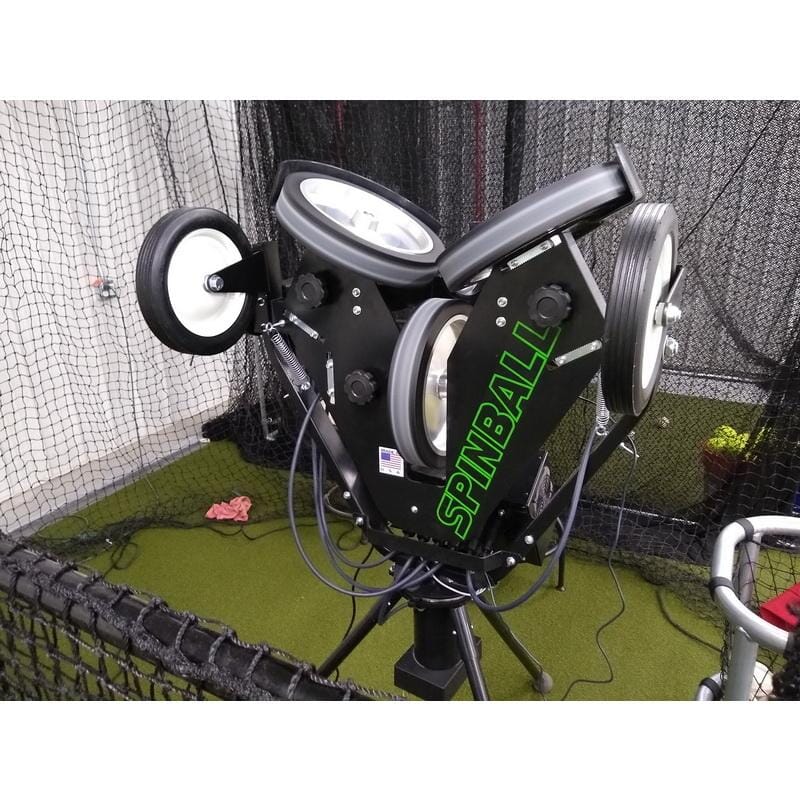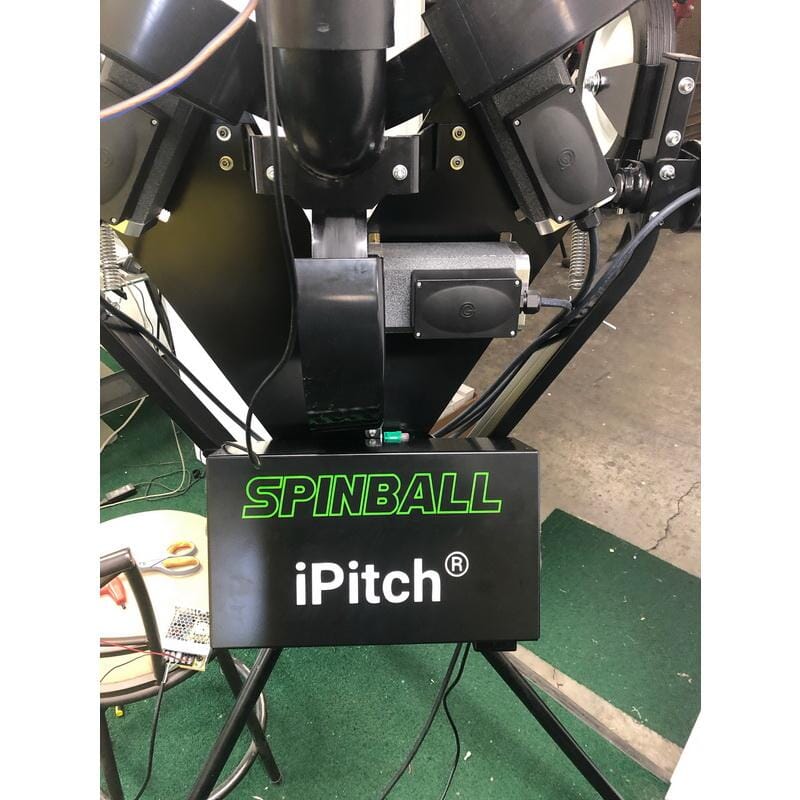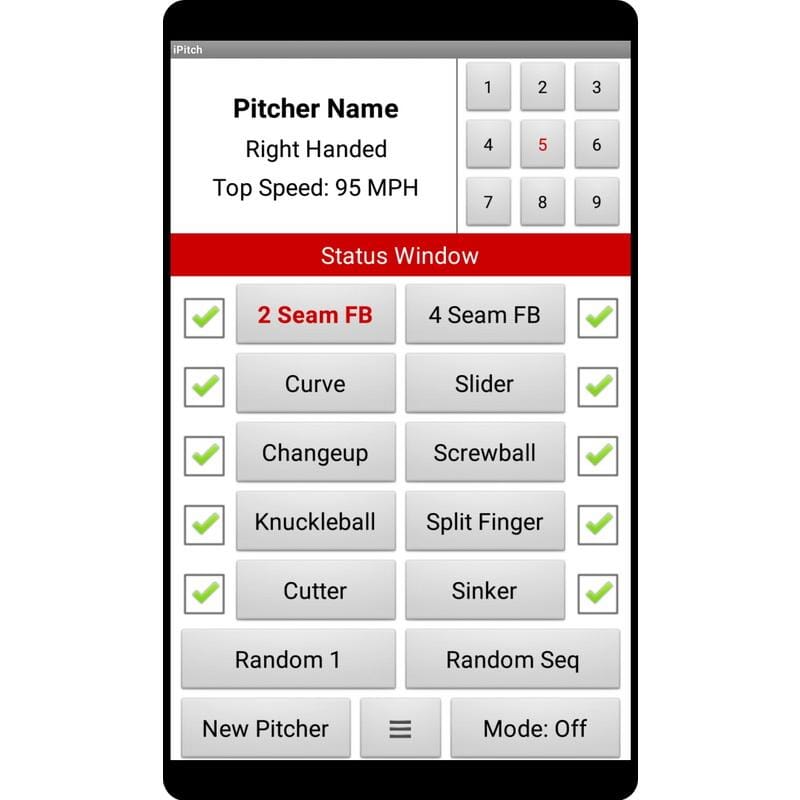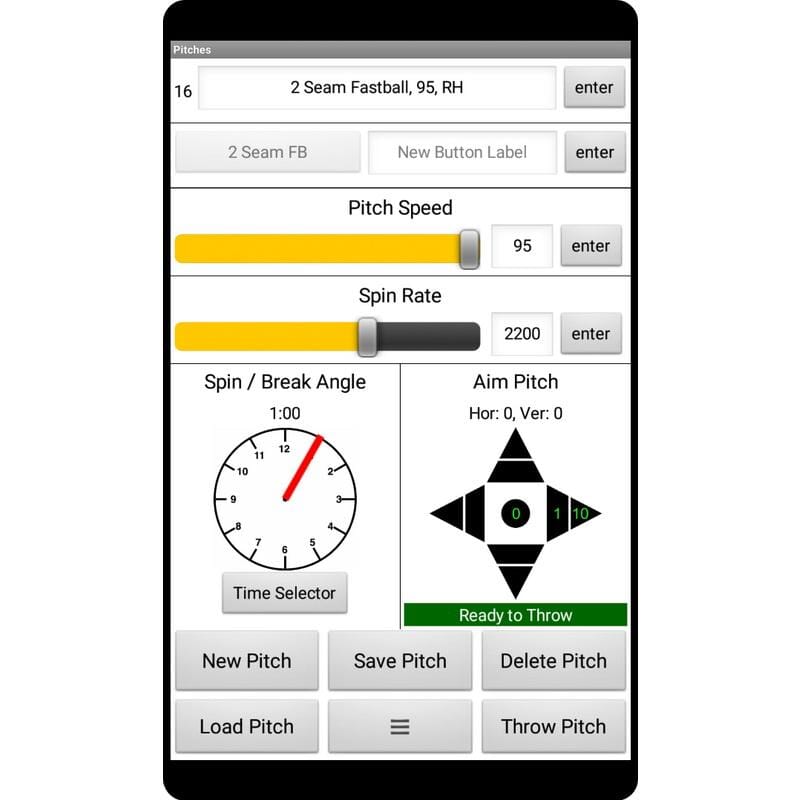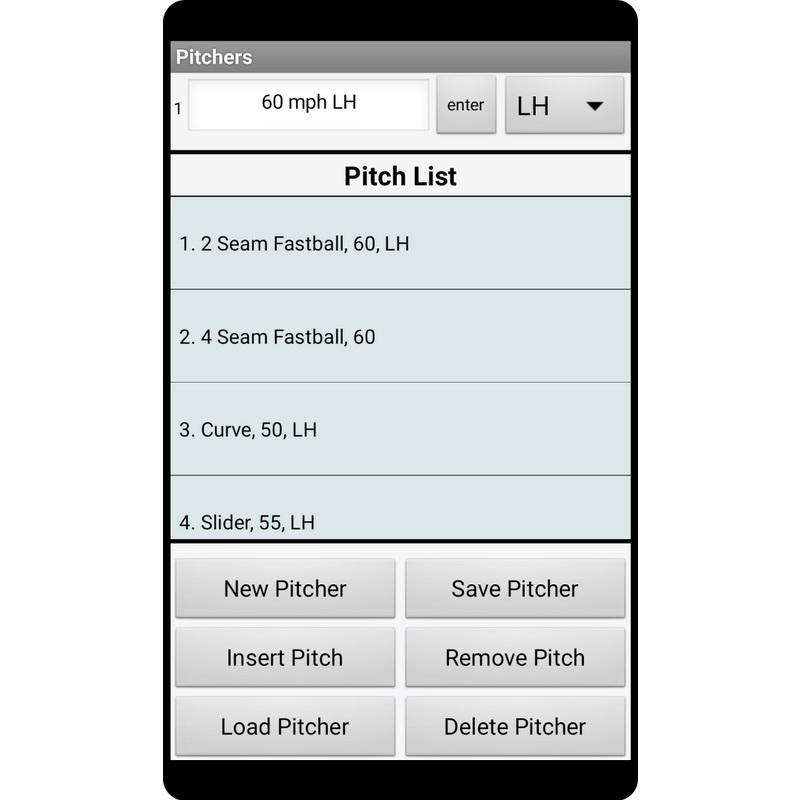 Spinball iPitch Programmable 3 Wheel Pitching Machine
Free Shipping!
Talk to an expert(888) 466-0009
Performance Improvement Pledge45-Day Guarantee: Improve skills or receive a refund! Learn More.

Spinball iPitch® 3 Wheel Smart Programmable Pitching Machine
Let the computer do all the work with the Spinball iPitch 3 wheel pitching machine. With the Spinball iPitch 3, you can adjust the speed, pitch type, and pitch location with the touch of a button. You can choose from 16 preprogrammed pitchers, or create your own with 12 different custom pitches and have it pitched to any part of the strike zone at any speed up to 100 mph. It literally doesn't get any better than that.
We could explain how much we love this machine for days, but to truly understand the potential of this programmable pitching machine, watch the video below! 
See why the Spinball iPitch Pitching Machine is one of the Best Programmable Pitching Machines
iPitch Pitching Machine Features
Used by 10 MLB teams
Change pitches in 3-6 seconds
Random and programmed sequences
16 built-in pitchers with 140 pitches
Custom pitches to simulate any pitcher
Pitch speeds 50-100 MPH
Pitch spin rates 0-3000 RPM
Upgrade your system just by updating the app
XL option provides higher release point for more realistic pitch trajectory (74″ vs 58″ for standard baseball)
10″ Samsung Galaxy tablet included
5 year warranty / 1 year commercial
Free Fedex Freight shipping to continental US
Professional Pitcher, Trevor Bauer vs Spinball iPitch Pitching Machine
Easily Select a Preprogrammed Pitcher
 Choose from 16 built-in pitchers or create your own. Each pitcher can throw up to 12 different pitches. Left and right handed factory defined pitchers are available with top speeds from 60-95 mph. All pitch speeds are programmed as a percentage of the pitcher's fastball, so breaking pitches are thrown at a realistic speed relative to the fastball. For example, a pitcher with a 90 mph fastball will throw a 75 mph curve. Select "random sequence" to change pitches every time a ball is thrown. You can even choose which pitches are included in the sequence by checking or unchecking the boxes next to the pitch buttons. Factory pitches are programmed using real baseballs. The machine will work with dimpled balls, but you may need to adjust the aim for some pitches. You can not mix ball types in a single setup.
Changing Pitch Location
 We can't guarantee the pitch will be thrown in the selected zone every time, but the target point moves as selected.
Adjusting Settings with the iPitch LCD Screen
Use Pre Programmed Pitches, Edit Existing Pitches or Create Your Own
Each pitcher has a repertoire of up to 12 pitches. Create profiles for real or fictional pitchers by simply selecting the pitches from a list. Choose from 140 factory defined pitches or create your own on the Pitch screen (see below). You can create realistic pitchers or specialty ones for specific drills. For example, you can create a pitcher that throws 10 different speed fastballs to concentrate on timing. Or create pitches out of the zone to work on pitch selection. It's up to you.
Tracking Pitching Machine Performance with a Spreadsheet
Use a Google Sheet to maintain your library of pitchers. The online spreadsheet is linked directly to the app so your changes on the spreadsheet are immediately available for use in the app.
Selecting Pitching Sequences
Create ordered lists of pitches for training or player evaluations. Run the sequence once, or in a loop.
iPitch® is the most advanced pitching machine available
Fast pitch changes – Change between most pitches in under 5 seconds. The machine aims automatically. You can choose both the pitch and the target zone.
Random sequences – A new pitch is selected every time a ball is thrown. Hitters won't know which pitch is next.
Programmed sequences – Create a pre-defined sequence of pitches to compare hitter performance or simulate at specific at bat.

Custom pitches with controlled spin rate – Only Spinball machines let you set the ball's spin rate and direction to simulate any specific pitch or pitcher. You can even group these custom pitches into custom pitchers, so you can practice against the exact pitcher you will be facing in your next game.
Wireless interface – The machine is controlled over Wi-Fi by an Android tablet with a range of up to 300 ft. Hitters can control the machine from the plate or coaches can control it from behind the backstop.

Easily upgradable – Upgrading the machine is as easy as downloading the latest version of the app. Spinball will be adding new capabilities, new pitcher definitions, and new defensive drills to the app in the future.
Anytime Baseball Supply - Free Shipping On All Ground Shipment Orders Over $49! 
Order Confirmation and Shipment
As soon as you place your order, you will receive an automated confirmation email from us. Once the payment is processed, we will ship your product as soon as possible. All products usually ship out within 1-2 business days, unless otherwise noted. If the item you ordered is unavailable or on backorder, we will reach out to you via e-mail or phone to let you know. If you decide to wait for the backordered product to come back into stock, we will capture the payment and your card will be charged. Items in stock can take 1-3 business days to ship. After the order is processed and shipped from our warehouse, you will receive a tracking number via email. With the tracking number you can track your package and get an estimated time of delivery. If you do not receive a confirmation email or a tracking number, feel free to contact us at support@anytimebaseballsupply.com. *Some large items like the Mastodon Batting Cage are subject to shipping fees due to the large size and nature of the product. 
Free Shipping
Anytime Baseball Supply has Free Shipping everyday on all orders over $49. Some restrictions do apply. Here's the details:
Free Shipping method will be selected by Anytime Baseball Supply. Free shipping orders will be delivered via a standard ground shipping method.
Offer does not apply to truck or freight shipments typical of oversized items. Some of the items we sell exceed the size limits for standard ground shipping and must be sent by truck or freight delivery.
Not available on international, Alaska, Hawaii, Puerto Rico or APO/FPO orders. Only standard ground shipping orders to residential and commercial addresses in the continental US are eligible for Free Shipping.
Damages
Before accepting any package, be sure to thoroughly inspect your item for damages. In the event that your package is damaged, take photos of the item and send them to support@anytimebaseballsupply.com. We will begin the return process and provide a return label free of cost to you. 
30 Day Returns and Cancellation Policy
Refunds on cancelled orders will be returned to the card that the order was placed on. You have 30 days from the day you received your order to return your product. If a delivery is refused for any reason other than a damaged product, a restocking fee will be charged to the card on file and you will be required to pay for return shipping on the product. We reserve the right to charge a 25% restocking fee on Sports Attack orders.
How many balls can be loaded at once?

Hello, thank you for your interest in this product. You have to load the ball one at a time.