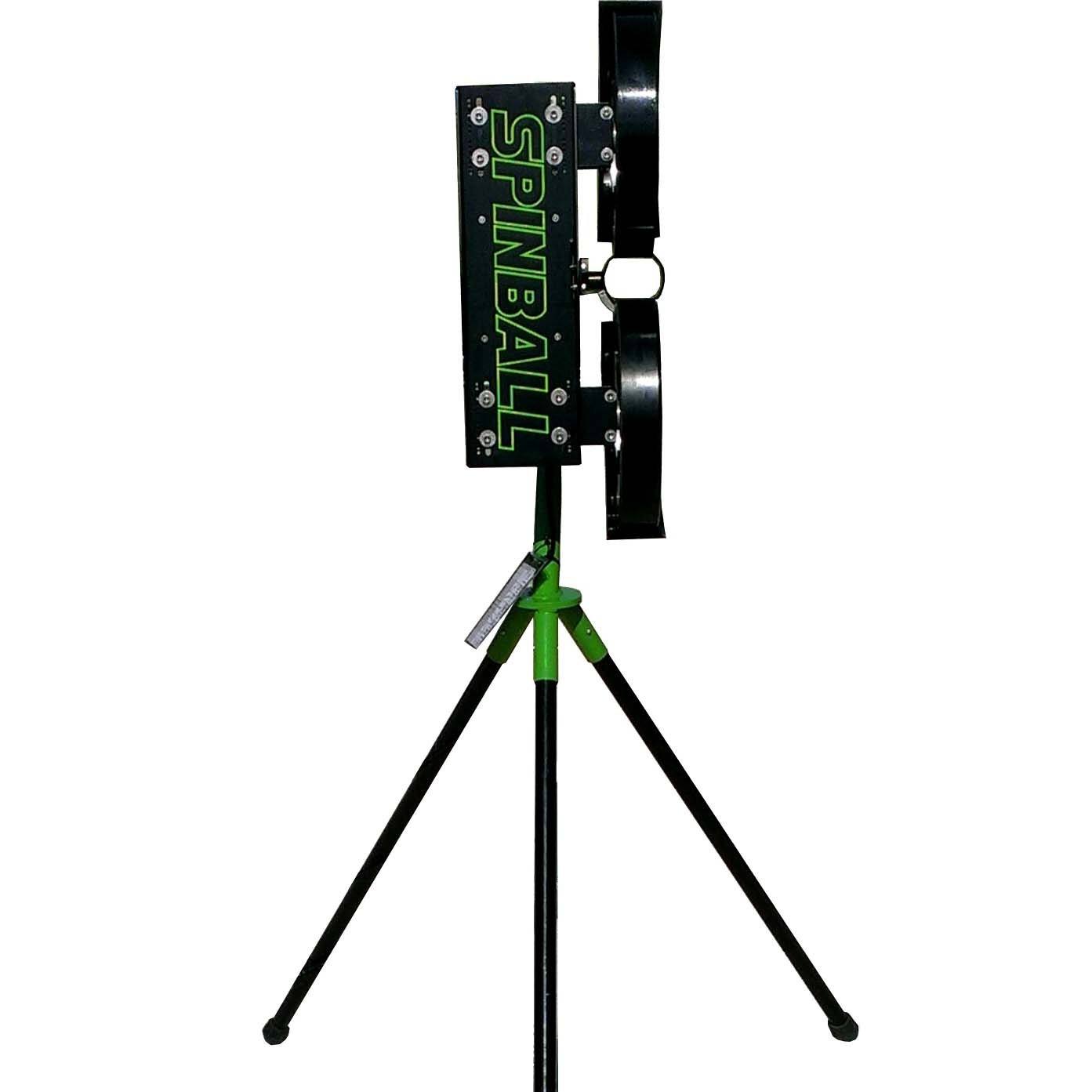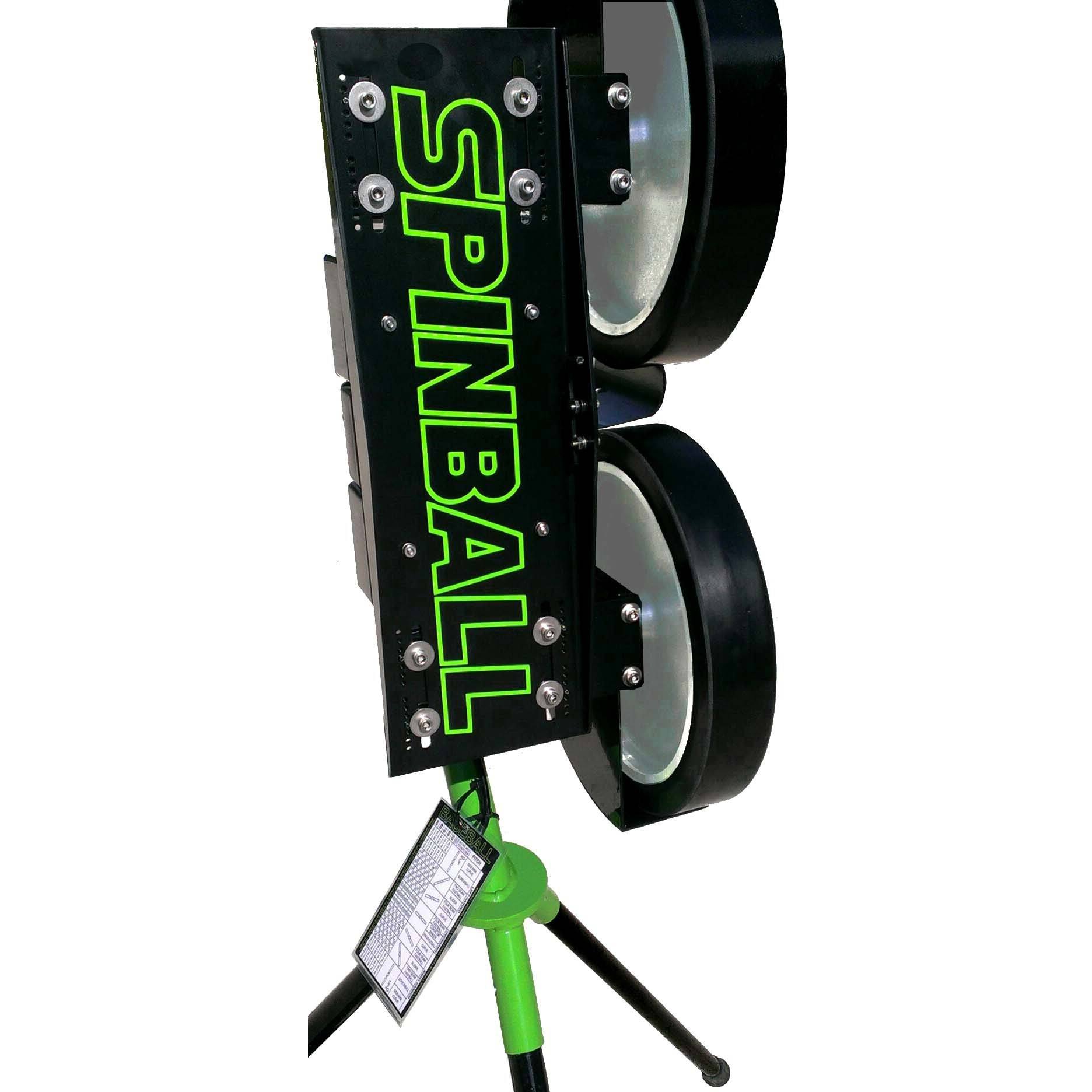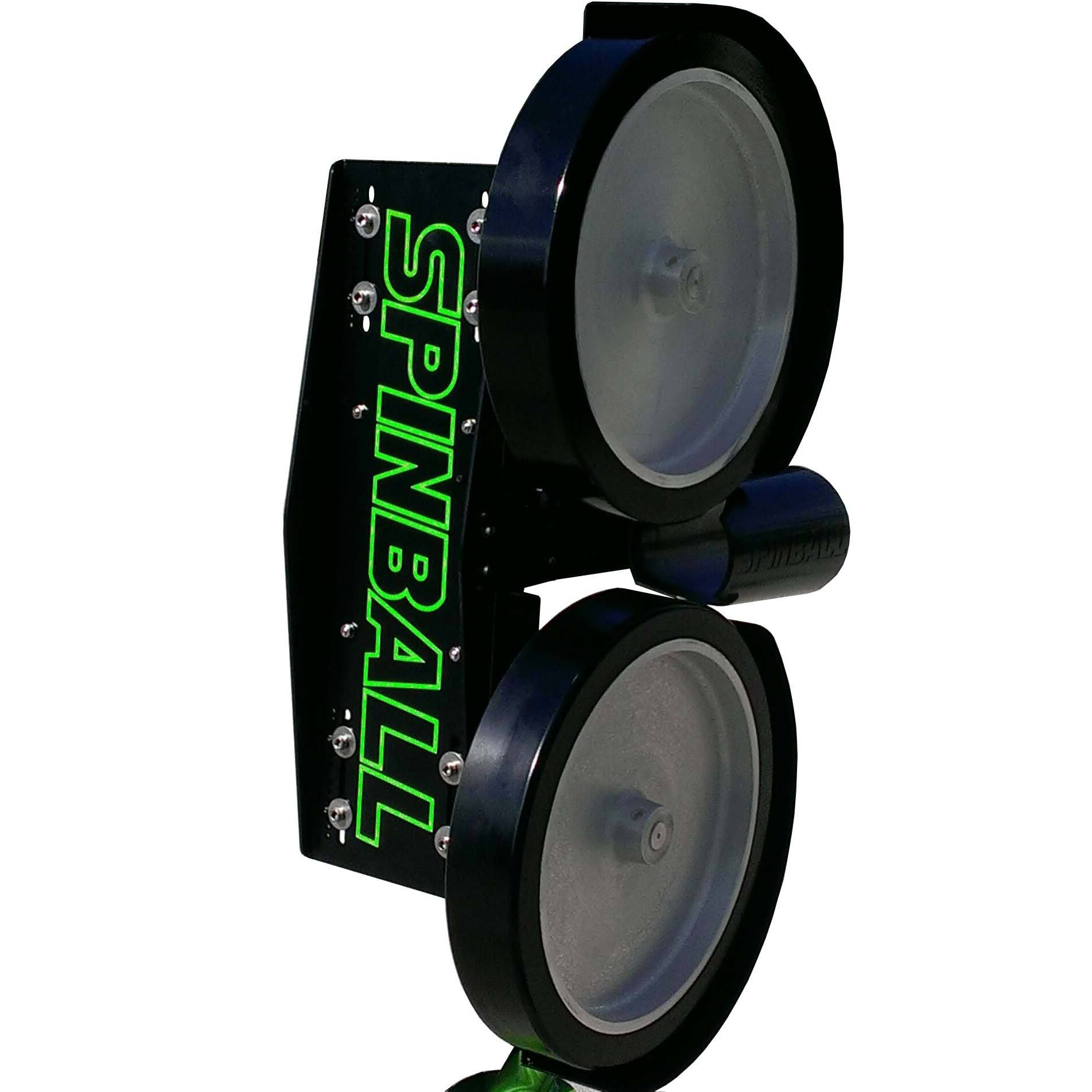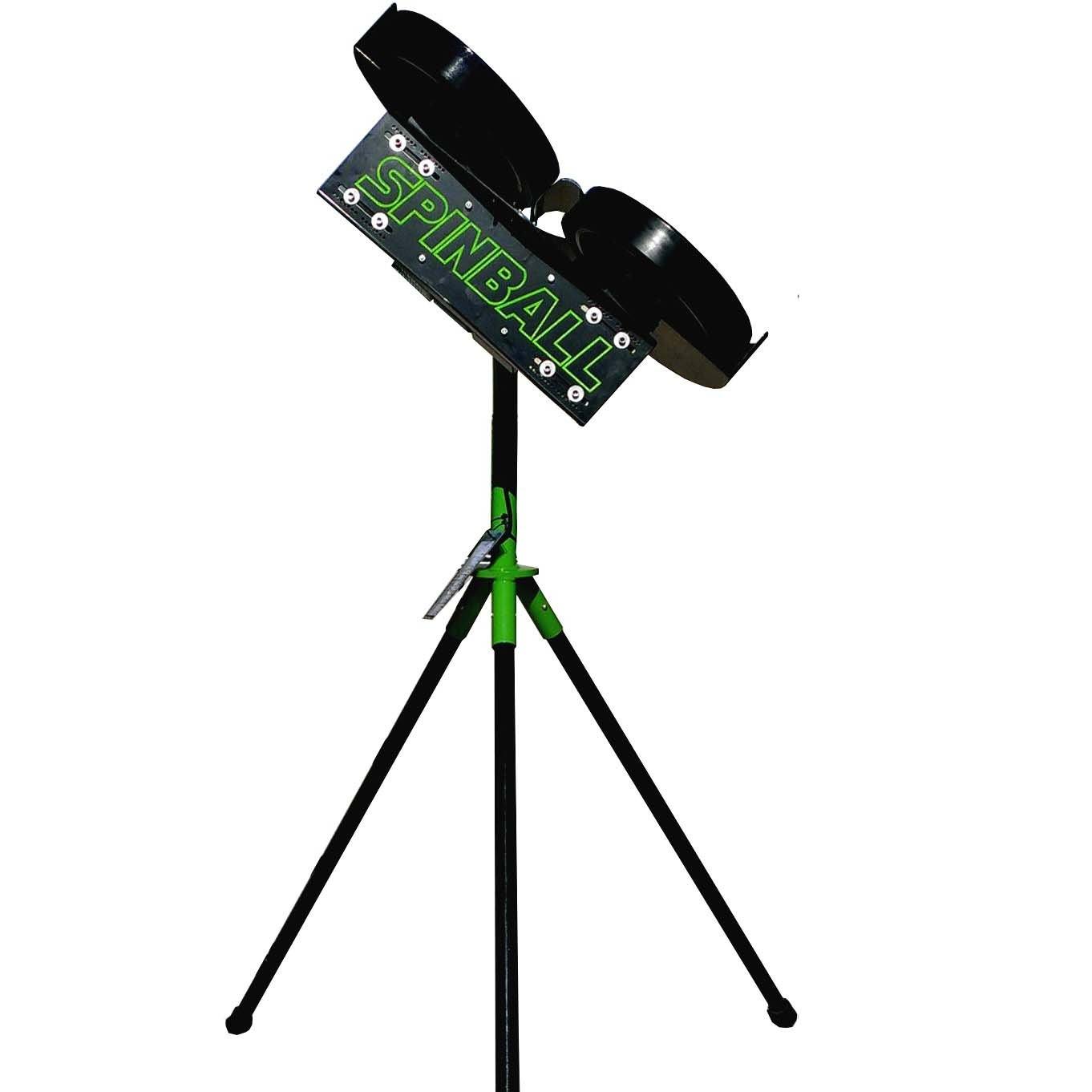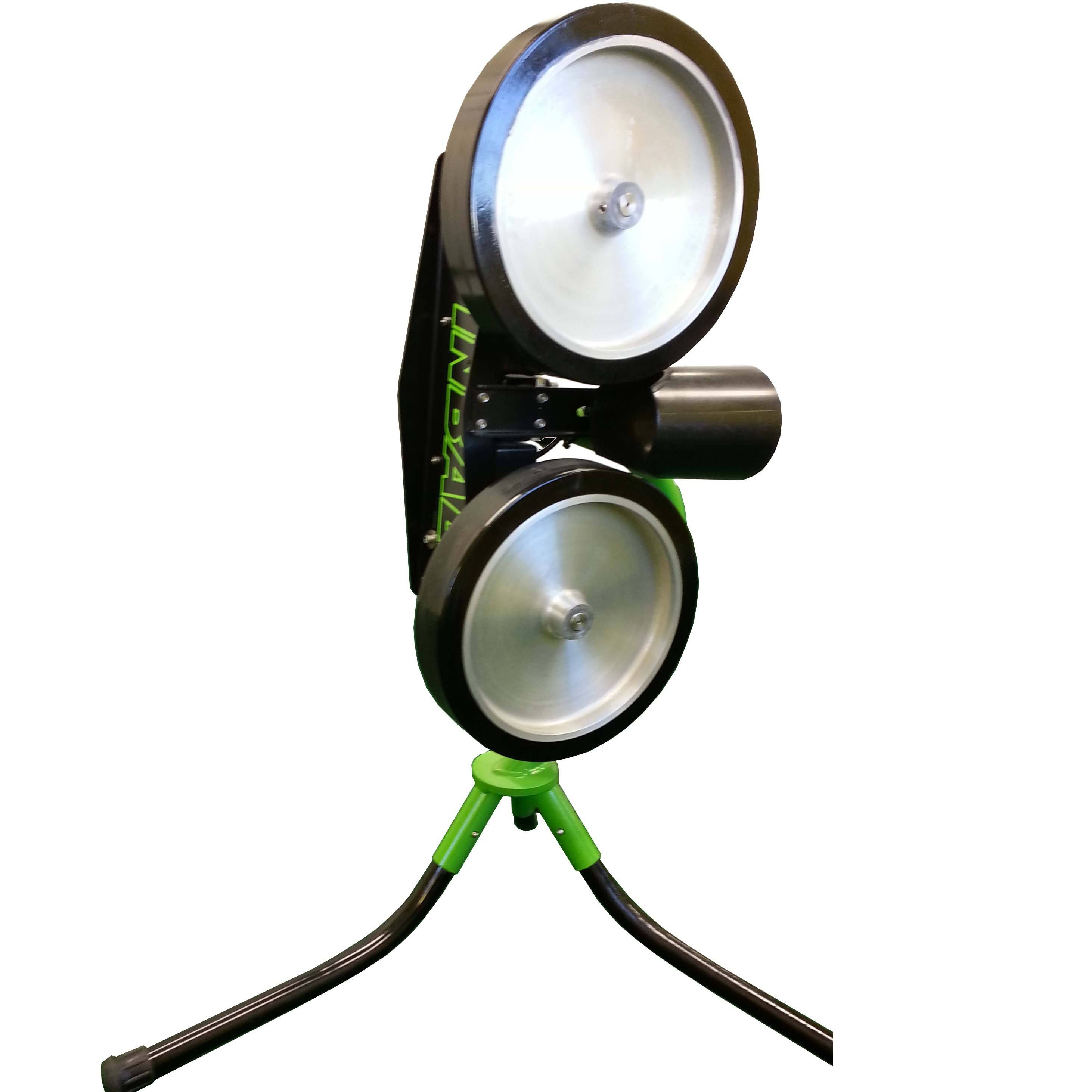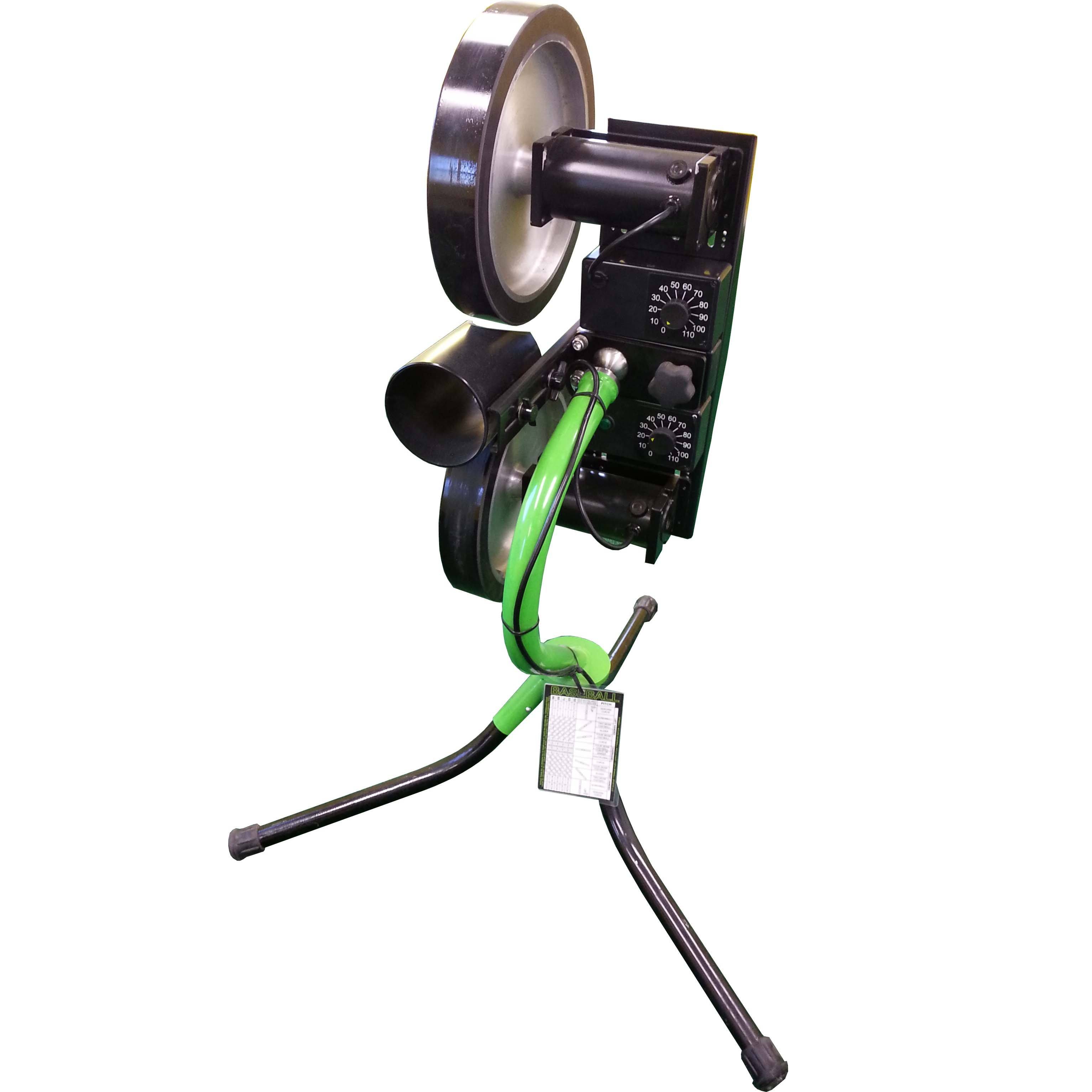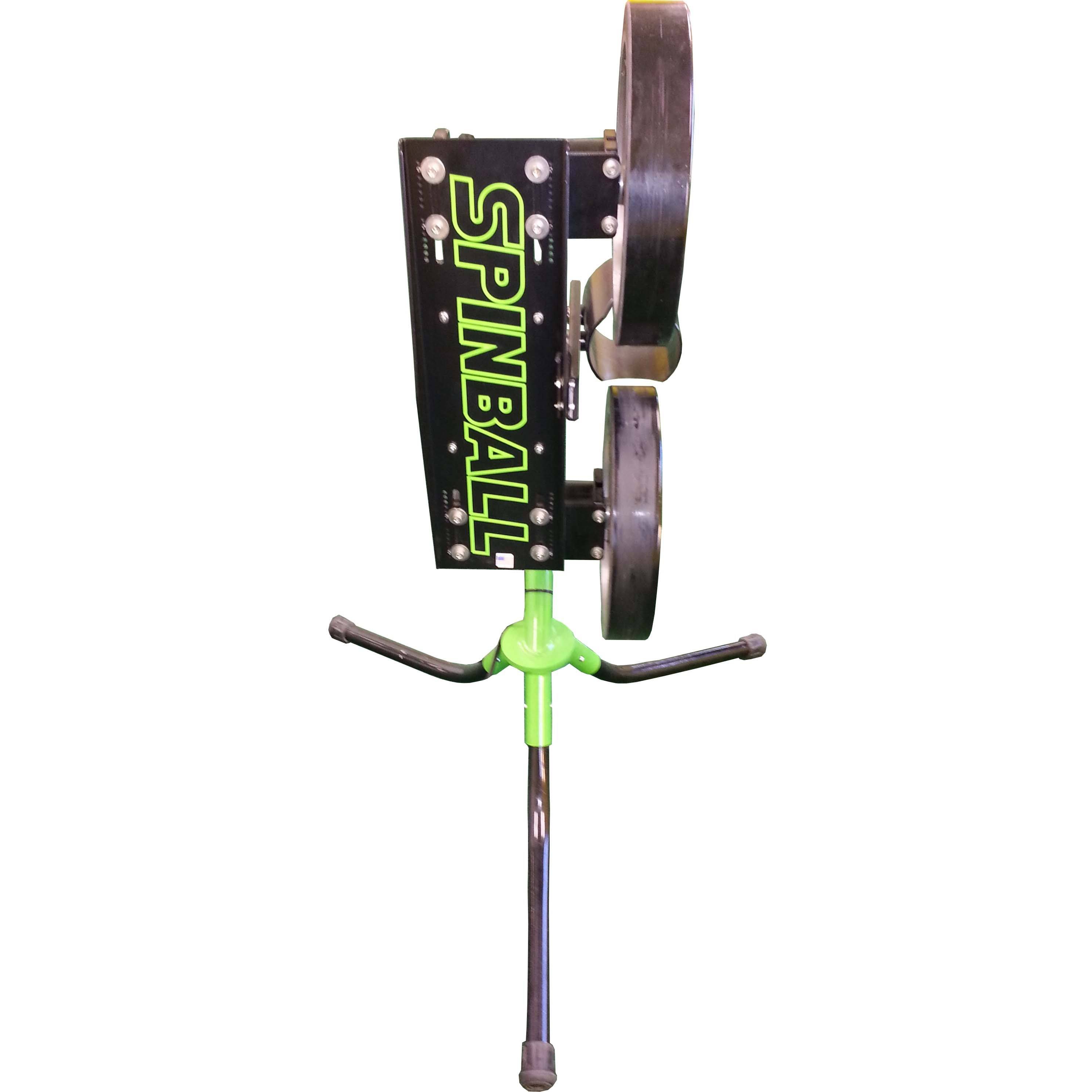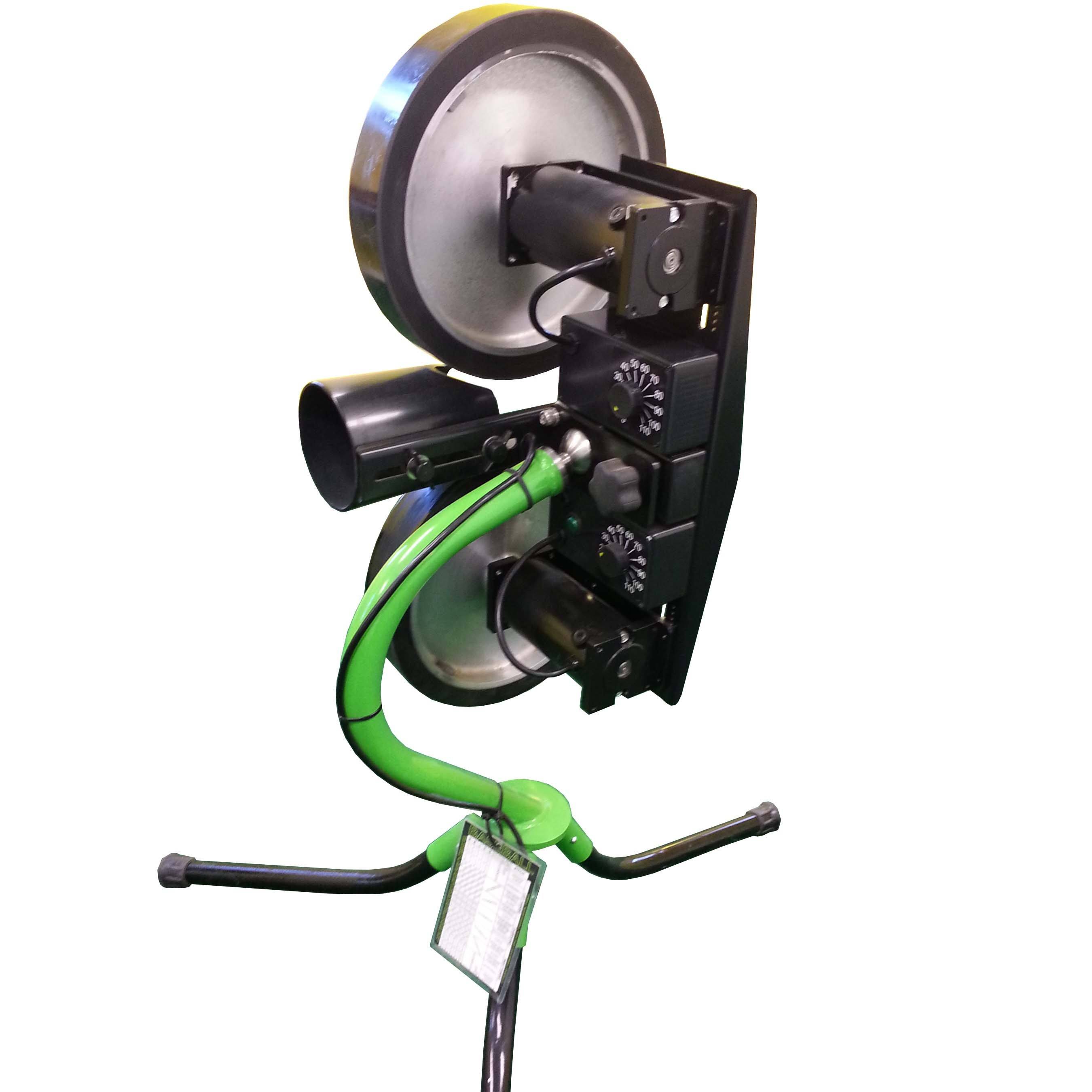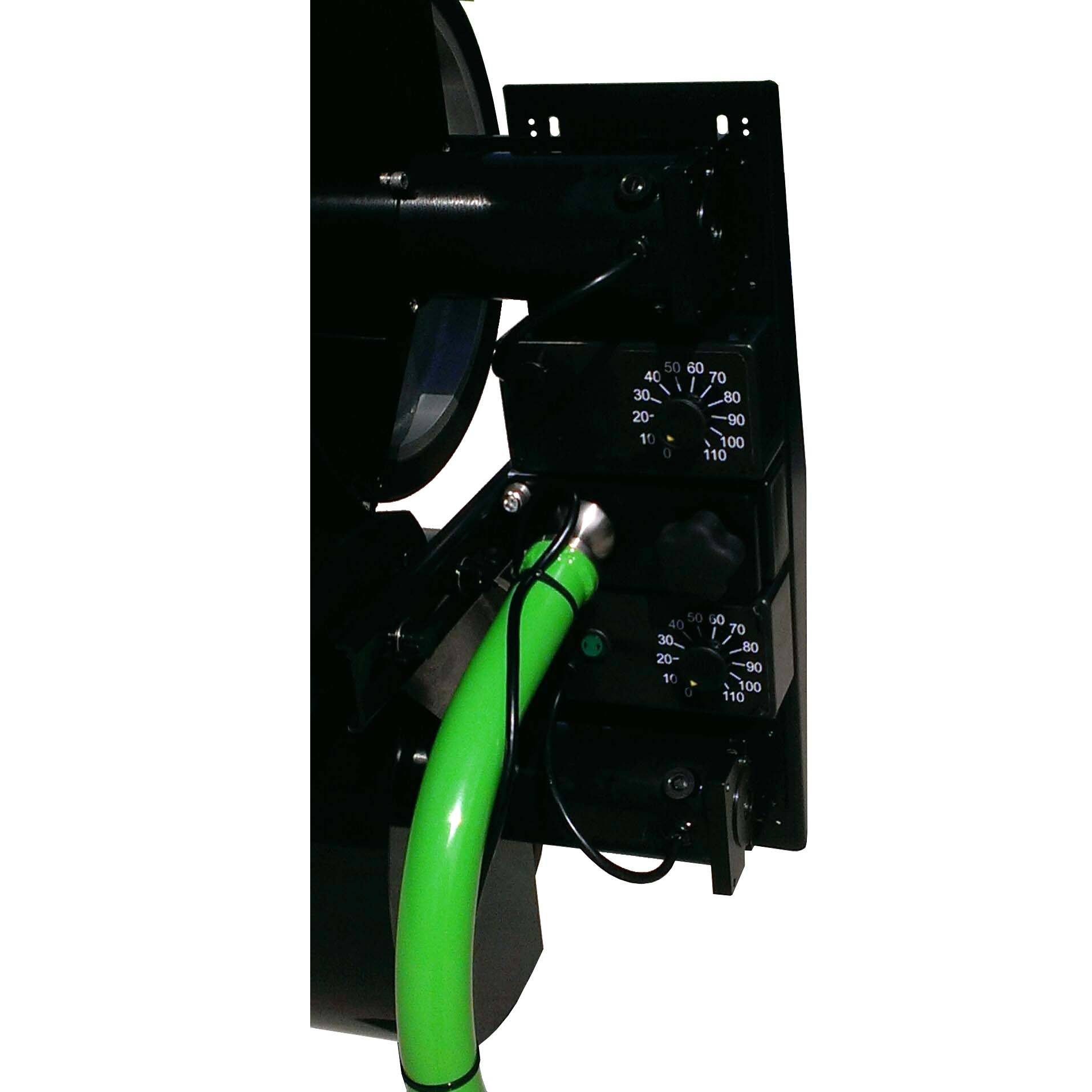 Spinball Wizard 2 Wheel Pitching Machine
Free Shipping!
Talk to an expert(888) 466-0009
Performance Improvement Pledge45-Day Guarantee: Improve skills or receive a refund! Learn More.

Spinball Wizard 2 Wheel Pitching Machine For Baseball, Softball, Combo Machine
The Spinball Wizard 2 Wheel Pitching Machine is built for performance with affordability in mind. With a design to get the most out of every working part, Spinball is able to provide you a durable pitching machine that will give you the most MPH and accuracy for your buck. The Spinball wizard 2 wheel pitching machine is built for baseball and softball, making it a great option for parents and coaches of both sports.
Full Control Over Every Pitch with the Spinball Wizard 2 
A thrown ball curves in the direction of its spin. The faster the spin, the more it curves. Fastballs have backspin, which cause them to rise, or at least fall slower than they otherwise would. Sinkers and curves have topspin, causing them to drop. Knuckleballs ideally have no spin at all and move randomly. By adjusting the wheel speeds and the angle of the machine, the machine can be set to spin the ball in any direction to simulate virtually any pitch.
True Pitching Machine Value
The Spinball Wizard two wheel pitching machine is designed to throw more strikes for less money than any other machine. The quality is still there - the same wheels and motors as on the top end Rawlings machines - but kept the machine simple to keep the price down. This is a machine built for batting practice. While it can be used to throw grounders and fly balls, it can't be rotated around quickly to distribute them to the entire field. For that, you'll need the Rawlings 2 wheel machine.
Baseball Softball Combo Pitching Machine 
With interchangeable legs and different feeder tubes, the Spinball Wizard can be easily switched from baseball to softball.  Different leg sizes for realistic release points are available for both sports; 24" for softball, 50" for standard baseball. Purchase the ARP version for the ability to adjust the pitch release point. Switching the Spinball Wizard from baseball to softball (and vice versa) takes only 10 minutes, while other machines can take up to 30 minutes. 
Three Sports with One Pitching Machine
These machines can be used for baseball, softball, or cricket. The only differences between the machines are the interchangeable legs and ball feeder tubes. Single use machines can easily be upgraded to combination machines later by purchasing the appropriate upgrade kit. Motors are mounted on slots to allow for major adjustments between baseball and softball use, as well as for minor corrections for wheel tread wear and ball hardness. Three optional leg heights provide a realistic release points for each sport: 24" for softball, 50" for standard baseball, or 50-80" for cricket or the ARP (adjustable release point).
Spinball 2 Wheel Pitching Machine Features
Throw pitches from any angle
Control dials allow you to create any type of pitch
Throws pitches from speeds of 40 MPH-100 MPH
Baseball/ Softball combo machine option available
Changing from baseball to softball is very quick and easy
ARP option available (adjustable release point)
5 year manufacturer's warranty
FREE Shipping
Made in the USA 
Improved Pitching Machine Wheels
Spinball's solid wheels feature a urethane tread that is a full 1" thick for lower shock loads and almost instant speed recovery. Other pitching machines features a 3/8" thick profiled wheel tread, leading to a longer recovery time. . As the speed increases, the unbalanced rubber tire expands, but the balance weights mounted on the steel wheel can't move, so the wheels become unbalanced. They can also leak air and gloss over from use, reducing grip and therefore accuracy and speed.
Easy Leg Installation
Pitching machine legs slide easily into the machine and snap in place with spring loaded buttons. Different legs for baseball and softball usage can be swapped out easily.
Download the Spinball Wizard 2 Wheel Pitching Machine User's Manual Here!
Anytime Baseball Supply - Free Shipping On All Ground Shipment Orders Over $49! 
Order Confirmation and Shipment
As soon as you place your order, you will receive an automated confirmation email from us. Once the payment is processed, we will ship your product as soon as possible. All products usually ship out within 1-2 business days, unless otherwise noted. If the item you ordered is unavailable or on backorder, we will reach out to you via e-mail or phone to let you know. If you decide to wait for the backordered product to come back into stock, we will capture the payment and your card will be charged. Items in stock can take 1-3 business days to ship. After the order is processed and shipped from our warehouse, you will receive a tracking number via email. With the tracking number you can track your package and get an estimated time of delivery. If you do not receive a confirmation email or a tracking number, feel free to contact us at support@anytimebaseballsupply.com. *Some large items like the Mastodon Batting Cage are subject to shipping fees due to the large size and nature of the product. 
Free Shipping
Anytime Baseball Supply has Free Shipping everyday on all orders over $49. Some restrictions do apply. Here's the details:
Free Shipping method will be selected by Anytime Baseball Supply. Free shipping orders will be delivered via a standard ground shipping method.
Offer does not apply to truck or freight shipments typical of oversized items. Some of the items we sell exceed the size limits for standard ground shipping and must be sent by truck or freight delivery.
Not available on international, Alaska, Hawaii, Puerto Rico or APO/FPO orders. Only standard ground shipping orders to residential and commercial addresses in the continental US are eligible for Free Shipping.
Damages
Before accepting any package, be sure to thoroughly inspect your item for damages. In the event that your package is damaged, take photos of the item and send them to support@anytimebaseballsupply.com. We will begin the return process and provide a return label free of cost to you. 
30 Day Returns and Cancellation Policy
Refunds on cancelled orders will be returned to the card that the order was placed on. You have 30 days from the day you received your order to return your product. If a delivery is refused for any reason other than a damaged product, a restocking fee will be charged to the card on file and you will be required to pay for return shipping on the product. We reserve the right to charge a 25% restocking fee on Sports Attack orders.
Can the spin ball wizard 2 use real baseballs or dimple balls?

Hello, thanks for your ineterest in this machine. Yes, you can use real baseballs and dimpled baseballs with this machine. When you're ready to place the order, you can give us a call.

Does the head pivot so it can be for Fungo work?

Hi,

Yes, it does.

Your promo video for the two wheel machine says it throws balls from 25-100 mph but in your description it reads 40-100 mph. Could you let me know how fast it throws.

Hi,

The lowest speed setting is 40 MPH and can be adjusted up to 100 MPH for this machine.

How much does this machine weigh? Baseball setup.

Hi,

This machines weighs approximately 60 lbs., very portable.

Is there a battery pack that can be used for the two wheel spinball wizard?

Hi John,

The manufacturer reccommends using an 800w generator for this machine, but using a battery is possible too. When using a battery please use 1000w or higher deep cycle marine battery. You will also need to use an inverter for the battery and for the inverter the manufacturer advised using a true sine wave inverter as the modified sine wave type of inverter will not work.

Hope this helps. If you have more questions please feel free to email us at support@pitchprodirect.com

-Pitch Pro Direct

What is the shipping costs for the Spinball Wizard 2 Wheel Pitching Machineto Hawaii, Zip Code is 96822

Hi Merritte,

Please send us your complete address at support@pitchprodirect.com so we can check it with the shipping companies and we will get back to you right away as soon as we have a quote.

Thank you!

Pitch Pro Support
Customer Reviews
02/04/2023
Ed C.

United States
With college players in the summer Prospect League I will use the mach. for mostly infield and foul territory fly balls , all infield double plays.
09/02/2021
OUTKAST B.
Las Vegas, Nevada, United States
Great machine
This machine is awesome. We use not just for BP, but to do flyballs as well. Easy to use.
06/12/2021
Clay C.
Opelika, Alabama, United States
Great machine for cage or fly balls
I have this setup for my 11 yr old at cage at the house and take to field to shoot fly balls to my twin 8 year olds. Machine is fantastic and I use to work on off speed curves. Very easy to setup and purchased ball feeder as well which works fairly well. We have found real leather balls are better than pitching machine balls as they are heavier and more consistent to run through feeder and machine. All three of boys love setting up machine with feeder and hitting 30+ balls at once and can do by themselves. Love the machine and feeder. Would buys again/ only thing is it took 4 weeks to get after order but was worth wait.
05/25/2021
Ian m.
Altamonte Springs, Florida, United States
easy set up
The machine was packed really well, and it was very easy to set up! the instructions on how to use the machine were helpful and easy. We use it everyday.
03/29/2021
Kurt W.
Winter Garden, Florida, United States
Great machine!
Great investment. I love the versatility of the spinball wizard. Not only can you use it as a pitching machine but you can also do ground ball's and pop flies. I'm very happy!!