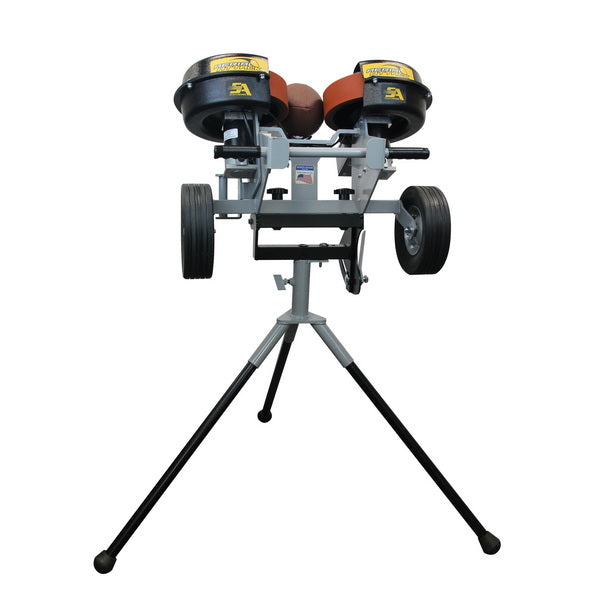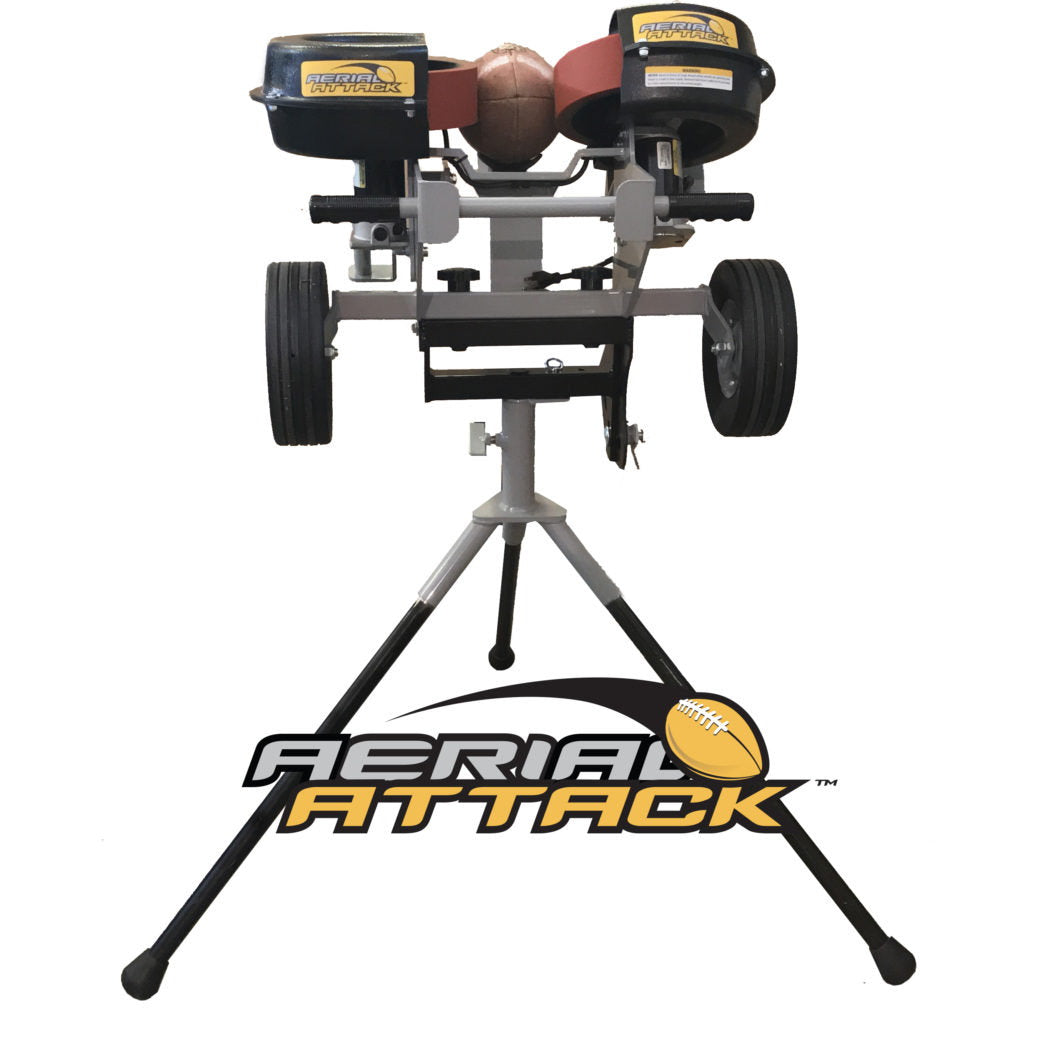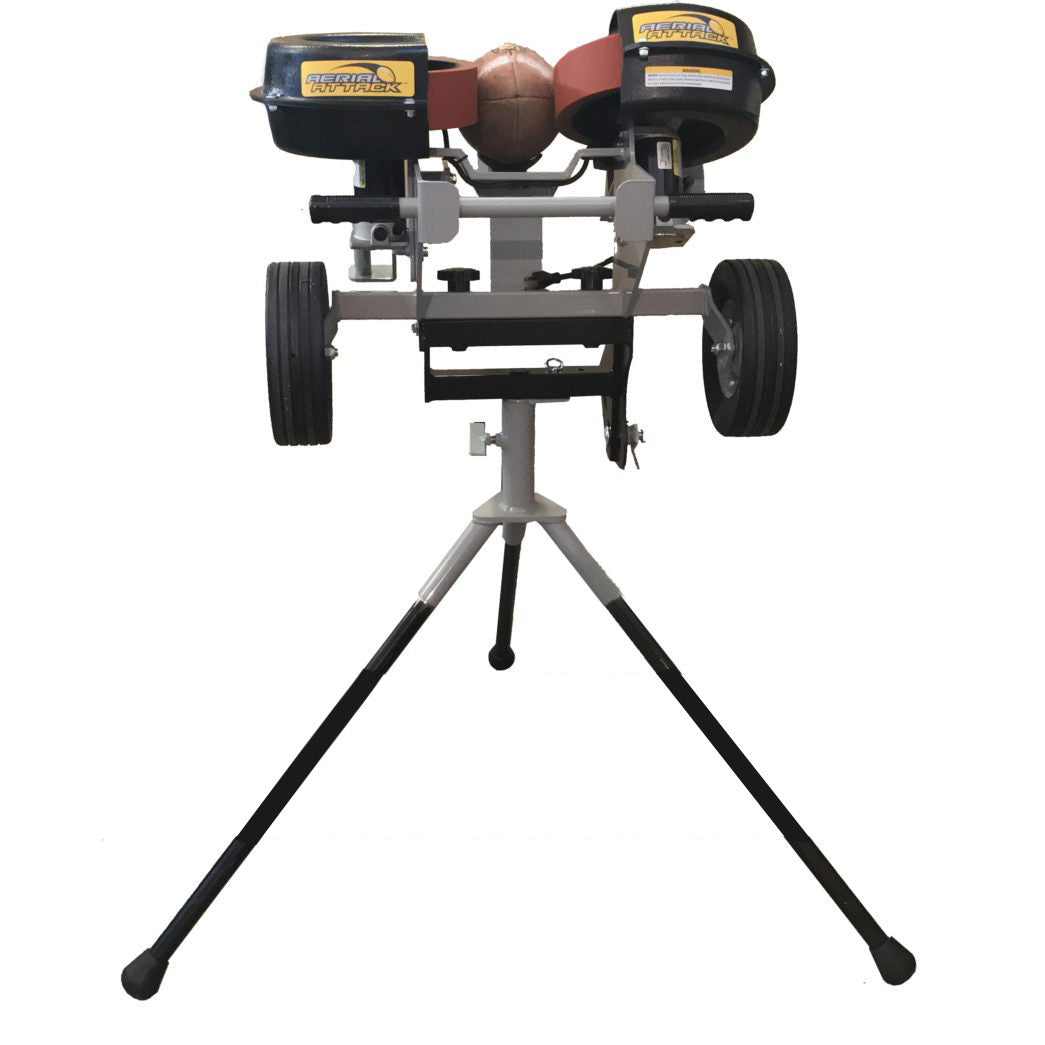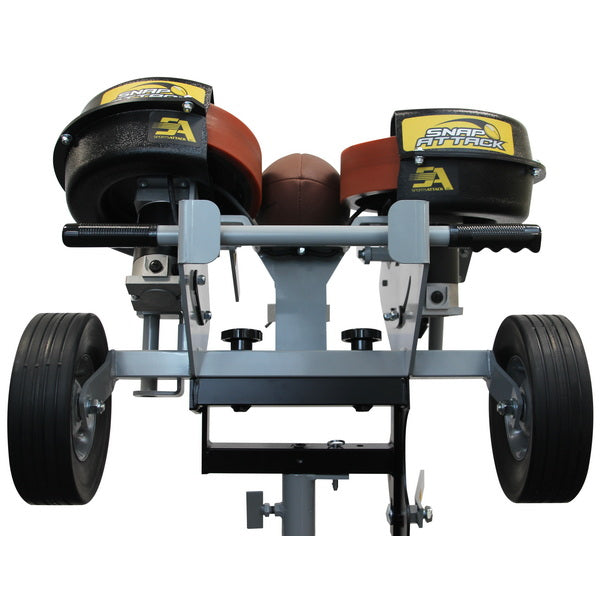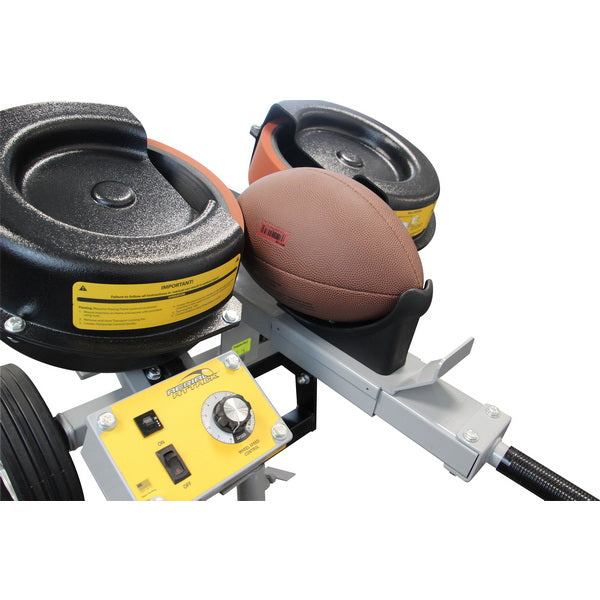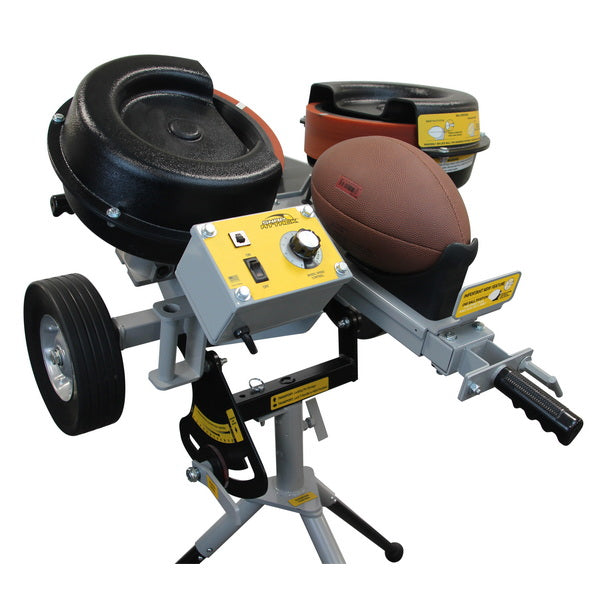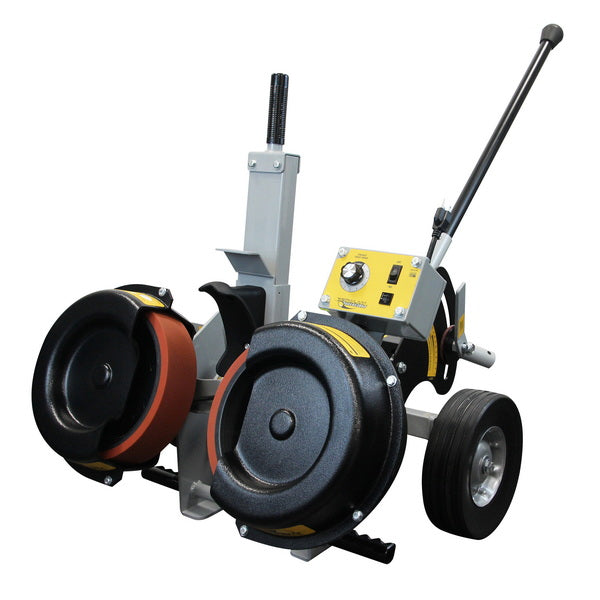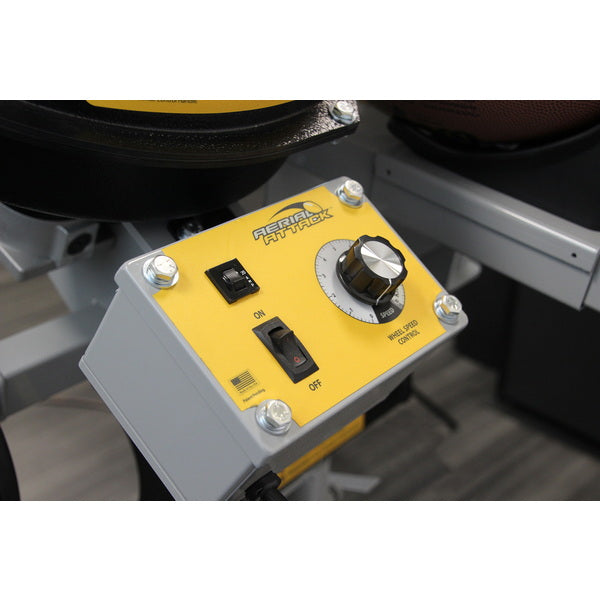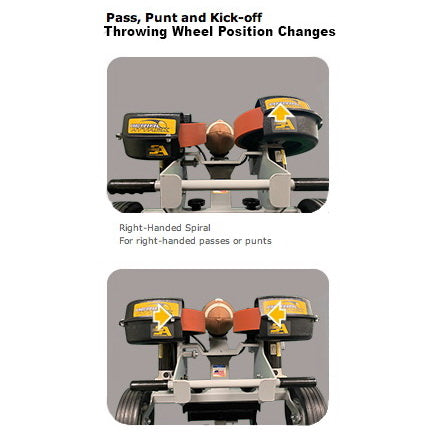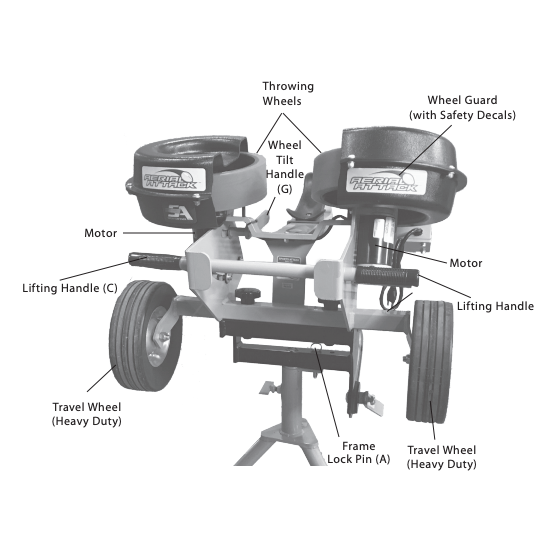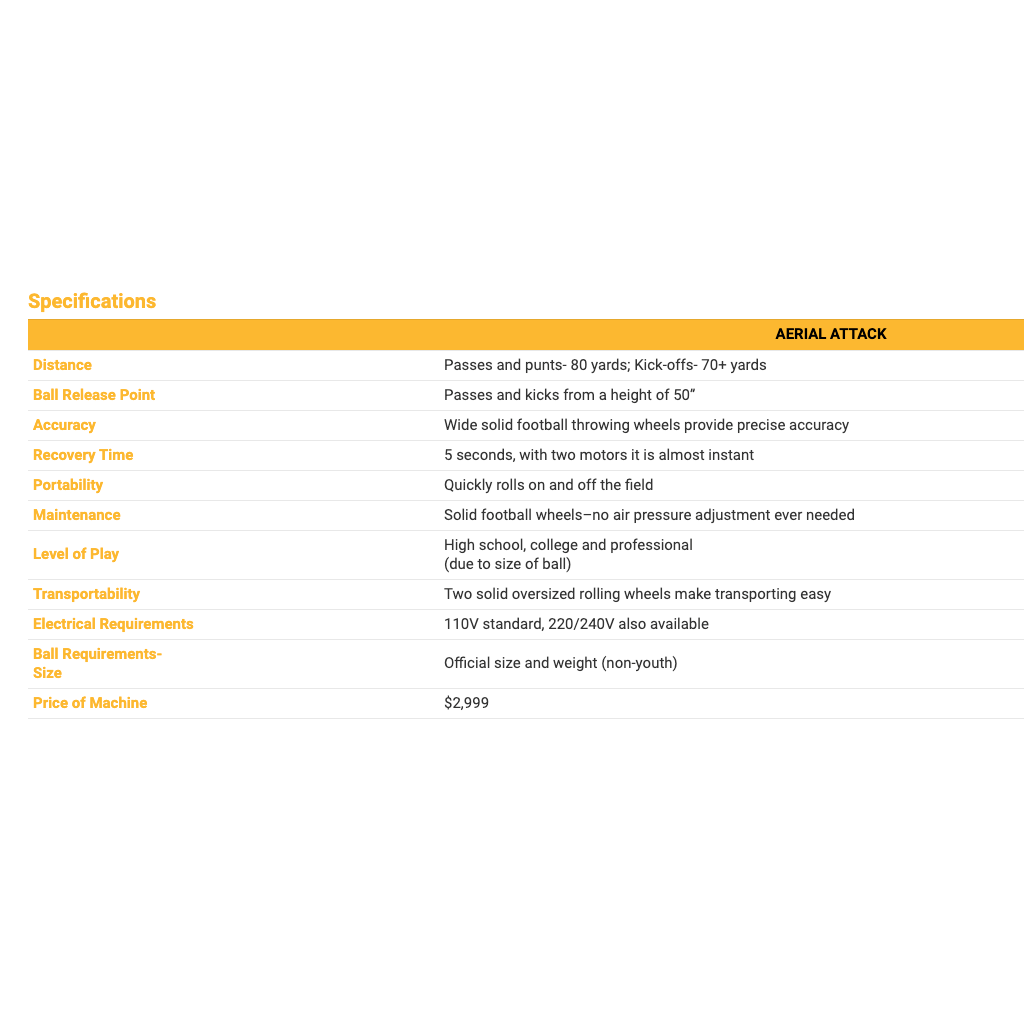 Aerial Attack Football Throwing Machine
Free Shipping!
Talk to an expert(888) 466-0009
Performance Improvement Pledge45-Day Guarantee: Improve skills or receive a refund! Learn More.

Sports Attack Aerial Attack Football Machine
Your biggest competitor is training everyday with a football passing machine, why aren't you? The next level up in your team's training lies within the ability to do more reps of each passing and kicking drill, something a quarterback just can't match on his own. 
Throw hundreds of passes and run as many drills as you want in your next practice with a football machine, because the Aerial Attack can do it all and won't get tired. Throw right or left-footed punts up to 80 yards, or short or long passes for defensive drills. Easily pivot the machine to change the pass direction to challenge defensive coverage or throw to different locations.  
The Aerial Attack comes equipped with 2 durable polyurethane throwing wheels that tightly grip the ball, allowing for strong, perfect spirals. The throwing wheels are backed by a 2-year manufacturer's warranty, allowing you to practice with confidence.
The independently working motors have a near instant recovery time, allowing you to get the most out of each practice. The wheel guards protect arms from potential wheel burns as well as help to keep the wheels as dry as possible in inclement weather. 
Train harder with the Aerial Attack today and receive FREE shipping on your order!


Football Machine Specifications
Distance: Passes and punts- 80 yards; Kick-offs- 70+ yards.
Ball Release Point: Passes and kicks from a height of 50"
Accuracy: Wide solid football throwing wheels provide precise accuracy.
Recovery Time: 5 seconds, with two motors it is almost instant.
Maintenance: Solid football wheels–no air pressure adjustment ever needed.
Level of Play: High school, college and professional
(due to size of ball).
Portable Transportability: Two solid oversized rolling wheels make transporting easy.
Unmatched Machine Quality 
Steel-plated frame for strength and weather-resistance.
Solid polyurethane football wheels provide tight spiral, long distance and accuracy and minimize marking and wearing of balls. No air pressure required.
Two extra-wide solid transporting wheels make moving machine on and off field easy.
Rubber tripod bottoms for non slip
Extra-wide tripod base insures real stability and safety.
Two powerful variable speed motors drive two indestructible football throwing wheels.
Countless Reps Without the Quarterback!
Interception drills
Tip drills
Harassment drills (avoiding completions)
Defensive drills
Versus zone defenses
Prevent
Last two plays of game (versus 'Hail Mary')
Precise Reps Without the Quarterback!
Offensive drills
Deep Passes
Coming to the ball
Sideline (out)
Curl (hook)
Slant
Emphasize the Kicking Game in a Fraction of the Time!
Squib kicks
Pooch kicks
Onside kicks
Punt return
Kick-off return
Long punts
Aerial Attack Machine Requirements
Electrical Requirements: 110V standard, 220/240V also available.
Ball Requirements - Size: Official size and weight (non-youth)

Football Machine Features
Universal cradle positions the ball for passing, punting, or kick-offs. (No second cradle required for kick-off.)
Loosen lever clamp to safely facilitate tilting of wheels to locate and lock throwing head into desired position.
Two high-powered motors provide instant recovery, allowing rapid repetition and combination of drills. No waiting for wheels to come back up to speed.
Throwing head pivots instantly in any direction, accurately throwing passes, punts and kick-offs to any location on the field. Operators can lead receivers or spot punts or kick-offs precisely for both returns and coverage. Elevation changes are quick and easy. Machine can also be locked-in for precise repetition.
Unit quickly moves on and off field; just tilt it, unsocket legs and easily roll it on two transporting wheels.
Controller is accessible, visible and safely away from throwing wheels.
Throwing wheel guards protect players, coaches, fingers and hands during operation.
No assembly is required. Unit arrives fully assembled and ready for your immediate use.
Aerial Attack vs Snap Attack vs Jugs Football Machine
Anytime Baseball Supply - Free Shipping On All Ground Shipment Orders Over $49! 
Order Confirmation and Shipment
As soon as you place your order, you will receive an automated confirmation email from us. Once the payment is processed, we will ship your product as soon as possible. All products usually ship out within 1-2 business days, unless otherwise noted. If the item you ordered is unavailable or on backorder, we will reach out to you via e-mail or phone to let you know. If you decide to wait for the backordered product to come back into stock, we will capture the payment and your card will be charged. Items in stock can take 1-3 business days to ship. After the order is processed and shipped from our warehouse, you will receive a tracking number via email. With the tracking number you can track your package and get an estimated time of delivery. If you do not receive a confirmation email or a tracking number, feel free to contact us at support@anytimebaseballsupply.com. *Some large items like the Mastodon Batting Cage are subject to shipping fees due to the large size and nature of the product. 
Free Shipping
Anytime Baseball Supply has Free Shipping everyday on all orders over $49. Some restrictions do apply. Here's the details:
Free Shipping method will be selected by Anytime Baseball Supply. Free shipping orders will be delivered via a standard ground shipping method.
Offer does not apply to truck or freight shipments typical of oversized items. Some of the items we sell exceed the size limits for standard ground shipping and must be sent by truck or freight delivery.
Not available on international, Alaska, Hawaii, Puerto Rico or APO/FPO orders. Only standard ground shipping orders to residential and commercial addresses in the continental US are eligible for Free Shipping.
Damages
Before accepting any package, be sure to thoroughly inspect your item for damages. In the event that your package is damaged, take photos of the item and send them to support@anytimebaseballsupply.com. We will begin the return process and provide a return label free of cost to you. 
30 Day Returns and Cancellation Policy
Refunds on cancelled orders will be returned to the card that the order was placed on. You have 30 days from the day you received your order to return your product. If a delivery is refused for any reason other than a damaged product, a restocking fee will be charged to the card on file and you will be required to pay for return shipping on the product. We reserve the right to charge a 25% restocking fee on Sports Attack orders.