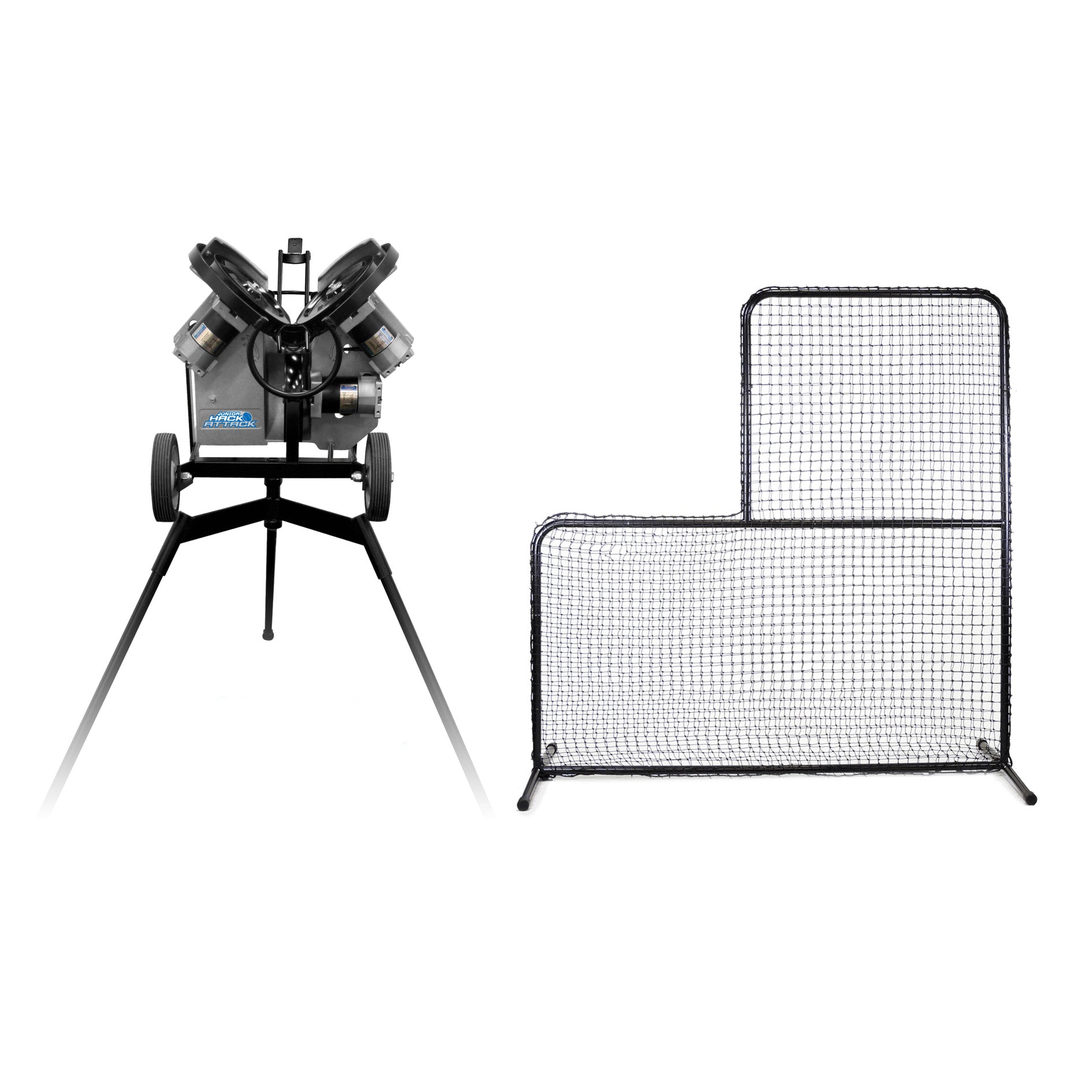 Jr Hack Attack + L-Screen Package Deal
Free Shipping!
Talk to an expert(888) 466-0009
Performance Improvement Pledge45-Day Guarantee: Improve skills or receive a refund! Learn More.

Jr Hack Attack Pitching Machine + Baseball L-Screen Package (Save $250+)
The perfect Combo to Take Your BP and Safety to the Next Level
The Jr. Hack Attack pitching machine + L Screen package deal has everything you need to run a safe and efficient batting practice, either on the field on in the cages. Using this L Screen in tandem with your Jr Hack pitching machine will give you, a parent, or coach the peace of mind they need to run batting practice safely, protecting themselves as well as the pitching machines from line drives. 
We decided to offer these 2 products together as the Jr. Hack Attack is an all time favorite amongst customers and a best seller, used by middle schools, high schools, colleges and even some MLB teams across the country. This L Screen has been one of our best sellers for years now and has received great feedback from parents and coaches alike on the durability and affordability. 
With this package deal you have the opportunity and convenience to get exactly what you need at a lower price than ever seen before. Did we mention we offer free shipping on this package? What're you waiting for?! 
Why the Jr. Hack Attack? 
The Junior Hack Attack features a 3 wheel design with the ability to throw fastballs, and right and left handed breaking pitches including curveballs, sliders and split fingers, all at speeds of 70+ MPH. Changing the type of pitch to be thrown is as easy as changing the settings on the speed dials. With three different speed dials, you have unlimited control over the type of pitch being thrown. 
With a simple turn of the elevation adjustment crank handle, the height of the pitch release point can be raised or lowered. This makes changing the location of the pitch in the strike zone very easy in between pitches.
Features of the Jr. Hack Attack Pitching Machine
Throws fastballs, right and left handed breaking pitches including curveballs, sliders and split fingers, all at speeds of 70+ MPH
5 second recovery time
3 throwing wheel dials for maximum control over each pitch
Great accuracy and control with every pitch
Elevation crank allows easy adjustment of pitch release point
Pivot head design allows for infield and outfield drills
Fungo fly balls up to 250 feet
Front wheel guards ensure the throwing wheels never come in contact with ground (this ensures accuracy and maximum life span)
Can throw regulation leather balls, dimpled practice balls, wiffle balls, and other soft practice pitching machine balls. 
L-Screens Nets For Batting Practice and 

 

Pitching Protection
You've seen them in the Home Run Derbies, but they're not just for the big leagues. The L-Screen is a protective net that protects your players and coaches from hard-hit baseballs during batting practice.
Providing your players with the best training is crucial, and an L-Screen net will protect both your players and coaches when you are holding batting practice.
These l-screens can be used indoor and outdoor and are vital equipment for improving batting, pitching, and overall safety.
Since the screen may take a beating from line drives during batting practice, it is important to invest in a high-quality L Screen that will hold up over time. So, we will help you decide what L Screen is best for your baseball training needs.
L -  Screens Features 
Frame is made of 1 1/2 " 16 gauge powder coated steel
#42 twisted & knotted twine
Pillowcase style net
Easy to assemble
Optional frame wheels available
Replacement Nets Available
Anytime Baseball Supply - Free Shipping On All Ground Shipment Orders Over $49! 
Order Confirmation and Shipment
As soon as you place your order, you will receive an automated confirmation email from us. Once the payment is processed, we will ship your product as soon as possible. All products usually ship out within 1-2 business days, unless otherwise noted. If the item you ordered is unavailable or on backorder, we will reach out to you via e-mail or phone to let you know. If you decide to wait for the backordered product to come back into stock, we will capture the payment and your card will be charged. Items in stock can take 1-3 business days to ship. After the order is processed and shipped from our warehouse, you will receive a tracking number via email. With the tracking number you can track your package and get an estimated time of delivery. If you do not receive a confirmation email or a tracking number, feel free to contact us at support@anytimebaseballsupply.com. *Some large items like the Mastodon Batting Cage are subject to shipping fees due to the large size and nature of the product. 
Free Shipping
Anytime Baseball Supply has Free Shipping everyday on all orders over $49. Some restrictions do apply. Here's the details:
Free Shipping method will be selected by Anytime Baseball Supply. Free shipping orders will be delivered via a standard ground shipping method.
Offer does not apply to truck or freight shipments typical of oversized items. Some of the items we sell exceed the size limits for standard ground shipping and must be sent by truck or freight delivery.
Not available on international, Alaska, Hawaii, Puerto Rico or APO/FPO orders. Only standard ground shipping orders to residential and commercial addresses in the continental US are eligible for Free Shipping.
Damages
Before accepting any package, be sure to thoroughly inspect your item for damages. In the event that your package is damaged, take photos of the item and send them to support@anytimebaseballsupply.com. We will begin the return process and provide a return label free of cost to you. 
30 Day Returns and Cancellation Policy
Refunds on cancelled orders will be returned to the card that the order was placed on. You have 30 days from the day you received your order to return your product. If a delivery is refused for any reason other than a damaged product, a restocking fee will be charged to the card on file and you will be required to pay for return shipping on the product. We reserve the right to charge a 25% restocking fee on Sports Attack orders.
Is the L screen easy to take part and reassemble to use at different facilities?

Hi,

No, it is not so easy to take apart and reassemble.
It will be a tedious task doing that all the time.