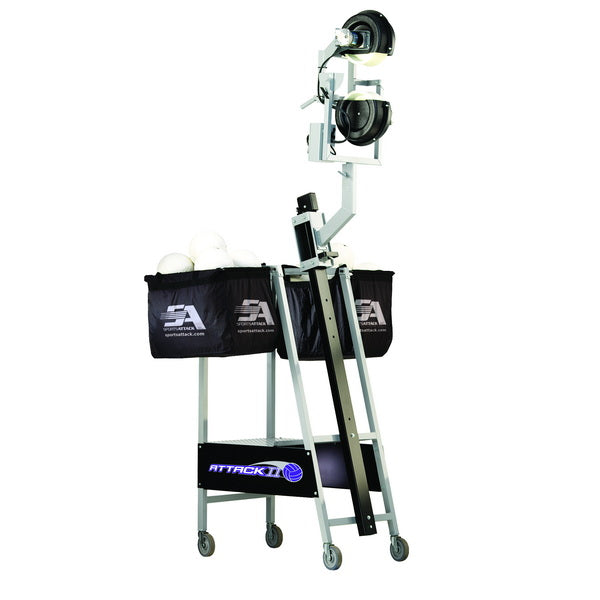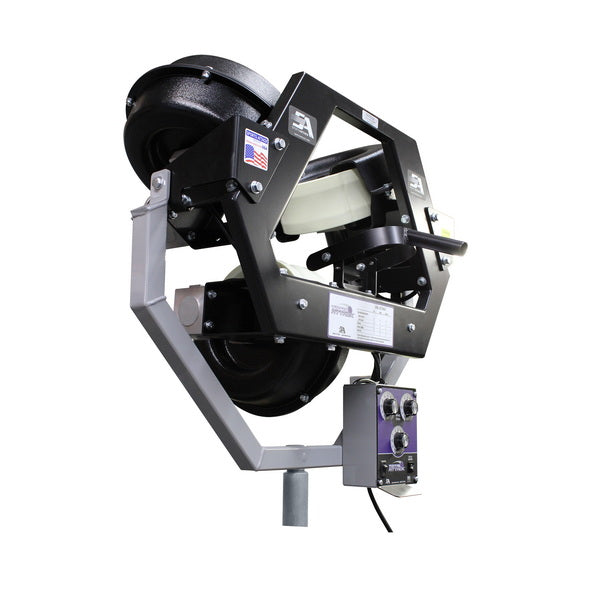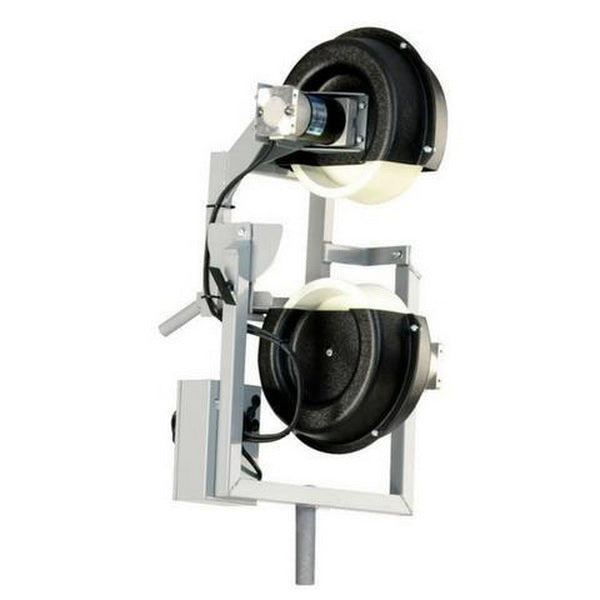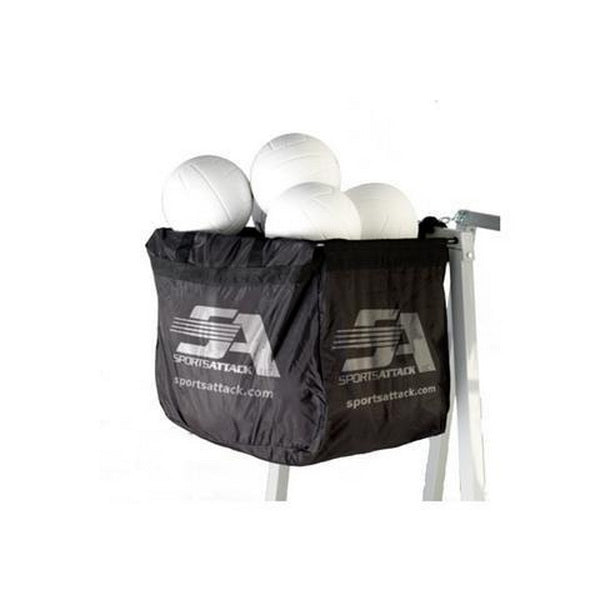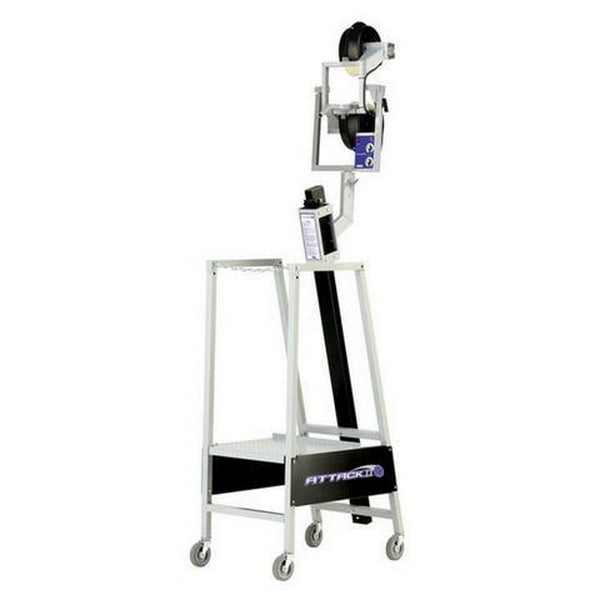 Attack 2 Volleyball Serving Machine
Free Shipping!
Talk to an expert(888) 466-0009
Performance Improvement Pledge45-Day Guarantee: Improve skills or receive a refund! Learn More.

Attack 2 Volleyball Machine By Sports Attack
With serving speeds up to 70 mph, setting, and spiking capabilities, it's no wonder why coaches all over the country are raving about the Attack 2 volleyball machine. Coaches love how much more efficient their practices are, and players love seeing their skills improve drastically each time they use this machine. Read on and see why you and your team need this volleyball machine!
Attack 2 Volleyball Machine Features
Ball release Point Range: 5′-6″ to 8′-6"
Serving Speeds: 70 MPH
Used by thousands of schools across the country
Spiking: Over Women's net
Setting: Yes
Spin: Top spins to floaters
Location Control: Instant
Portability: Fits through the standard doorway and into any standard size SUV or pick-up.
Electrical Requirements: 110V and 220/240V 
Throwing Wheel Size: 10″ diameter, 4″ wide
Dimensions:24″ wide x 79″-112″ tall (depending on head position)  47″ deep
(42″ w/o throwing head)
Platform Height: 24″
Includes 1 ball bag only.
5-year manufacturer's warranty 
Volleyball Machine Benefits 
Serving: With a full range of spins, the Attack II will throw both sharp topspin and breaking floaters to simulate match situations and is easily rolled along the serving baseline, changing the angle of serves. This unit, designed for the speed and height of the women's game, will provide a realistic serve release point and can deliver a jump serve at international level speeds, up to 70 MPH. The locating pins on the shaft will allow you to instantly position the throwing head to the men's serving height.
Spiking: The Attack II delivers the ball at realistic angles from over the net at top speeds to make actual game conditions a part of every digging drill.
Setting: Providing rapid reps at varying intervals, the Attack II will meet the requirements of all setting drills. Accurate and consistent soft sets with no spin are provided at any angle and height. This machine can be set to release the ball from a realistic setting height, not from floor level like some competitive units. The locating pins on the shaft will allow you to position the throwing head down to the setting position instantly.
Ball wear is extremely limited due to the two 4″ soft white polyurethane ball gripping surfaces and the contoured shape of the ball throwing wheels that uniformly distribute the contact forces, eliminating the high wear contact points.
Horizontal throwing head movement allows the coach to point ball delivery in any direction, working straight on, in the seams, or to an individual's weak side to really extend any player's range.
Vertical movement, coupled with horizontal movement, means the coach can instantly throw the ball to any point on the court, creating game situations & challenging the players to perform in progressively more difficult circumstances.
Portability: Locking casters provide instant mobility on the court and stability during use.

The Attack II can be safely operated by any assistant coach, player, student, or parent. This frees the coach to be by the receiving players to teach proper mechanics effectively. No more yelling across the court. It also allows the coach to improve the quality of standard drills and to create new machine drills for every phase of the game.
Storage: The Attack II will fit through any standard door for safe storage. The throwing head can also be removed, allowing storage of the frame in the open gym. A machine cover is available separately and is used to protect and secure the machine during storage.
Thousands of college, high school, club, and international women's teams rely on the Attack II machine to deliver thousands of reps in the daily practice of jump serve receiving, digging, and spiking.
Watch the Attack 2 Volleyball Machine in Action!
A Volleyball Machine Built to Last
The Attack II platform has a 16-gauge diamond plate, non-slip surface for sure-footing and safety during use.
The frame of the Attack II is powder-coated, rust-resistant steel tubing for extreme durability.
The extra-wide base of the Attack II machine assures real stability. As the throwing head is raised, it moves towards the center of gravity, further ensuring stability.
Two powerful variable speed motors directly drive two indestructible 4″ wide ball-throwing wheels. Rapid recovery provides rapid repetition, with no waiting for an air-powered launch system to recover.
Anytime Baseball Supply - Free Shipping On All Ground Shipment Orders Over $49! 
Order Confirmation and Shipment
As soon as you place your order, you will receive an automated confirmation email from us. Once the payment is processed, we will ship your product as soon as possible. All products usually ship out within 1-2 business days, unless otherwise noted. If the item you ordered is unavailable or on backorder, we will reach out to you via e-mail or phone to let you know. If you decide to wait for the backordered product to come back into stock, we will capture the payment and your card will be charged. Items in stock can take 1-3 business days to ship. After the order is processed and shipped from our warehouse, you will receive a tracking number via email. With the tracking number you can track your package and get an estimated time of delivery. If you do not receive a confirmation email or a tracking number, feel free to contact us at support@anytimebaseballsupply.com. *Some large items like the Mastodon Batting Cage are subject to shipping fees due to the large size and nature of the product. 
Free Shipping
Anytime Baseball Supply has Free Shipping everyday on all orders over $49. Some restrictions do apply. Here's the details:
Free Shipping method will be selected by Anytime Baseball Supply. Free shipping orders will be delivered via a standard ground shipping method.
Offer does not apply to truck or freight shipments typical of oversized items. Some of the items we sell exceed the size limits for standard ground shipping and must be sent by truck or freight delivery.
Not available on international, Alaska, Hawaii, Puerto Rico or APO/FPO orders. Only standard ground shipping orders to residential and commercial addresses in the continental US are eligible for Free Shipping.
Damages
Before accepting any package, be sure to thoroughly inspect your item for damages. In the event that your package is damaged, take photos of the item and send them to support@anytimebaseballsupply.com. We will begin the return process and provide a return label free of cost to you. 
30 Day Returns and Cancellation Policy
Refunds on cancelled orders will be returned to the card that the order was placed on. You have 30 days from the day you received your order to return your product. If a delivery is refused for any reason other than a damaged product, a restocking fee will be charged to the card on file and you will be required to pay for return shipping on the product. We reserve the right to charge a 25% restocking fee on Sports Attack orders.
If we are a 501c3 can you waive the tax on a purchase?

Hi,

We can waive taxes if you have a tax exemption certificate, which you can send to us at support@anytimebaseballsupply.com.

We are looking to purchase an Attack 2 volleyball machine for our high school girls volleyball team. I see that shipping is free which is awesome. Does the attack 2 come with a ball holder and do you sell the cover for the attack 2? Also do you offer any payment plan or discount for schools.

Hi,

Yes, we also sell the ball holders for the Attack 2 volleyball machine.
For payment plans we have an payment option for you to pay with Klarna which is a financing company.
This option should be available when you check out the product.

For discount please send us an email at support@pitchprodirect.com

Pitch Pro Direct

How heavy is this machine?

Hi,

This machine is about 200lbs.

Pitch Pro Direct

What is the current lead time for the Attack 2?

Hi,

The manufacturer for these Volleyball Machines is experiencing delays in producing the throwing wheels which extends the lead time to 5-6 weeks.