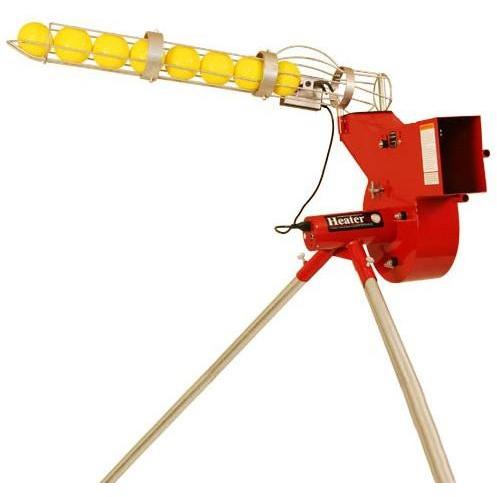 Heater Sports Combo Pitching Machine With Ball Feeder
Free Shipping!
Talk to an expert(888) 466-0009
Performance Improvement Pledge45-Day Guarantee: Improve skills or receive a refund! Learn More.

Heater Sports Combination Pitching Machine With Automatic Ball Feeder For Baseball And Softball
The Heater Real Ball Combo Machine is one of the most popular and high-quality Heater Sports pitching machines. This pitching machine can throw baseballs at speeds up to 60 mph and softballs up to 56 MPH at variable speeds. This makes the Heater Real Combo the most affordable baseball and softball combination pitching machine on the market. This pitching machine can throw slow or fastpitch softball and easily convert over to baseballs in minutes.
Want to throw slower? Faster? This machine has the option to throw at different speeds for different skill levels and to change it up and keep the batter's eye sharp. The Heater real combo can throw up to 56 MPH for softballs and 60 MPH for baseballs. Pretty versatile, right? The Real Ball Combo is easy to set up and connect to power. Just plug and play!
Parents & Coaches Love the Heater Sports Combo Pitching Machine!
This is the perfect all around machine for baseball and softball practice. Have kids in softball and baseball leagues? Are you coaching both sports? This is the machine for you. This machine even comes with an auto ball feeder that pitches balls every ten seconds. When the auto feeder runs out, just refill it and play on! 
Pitches, Grounders & Pop Flies
When you're done with BP, just tilt the pitching machine down for grounders, or tilt it up and catch some pop flies! This machine is perfect for all your infield and outfield drills!
Combo Pitching Machine Features
Variable Speed Control
Pitches Baseballs Up To 60 MPH
Pitches 11" & 12" Softballs Up To 56 MPH
Converts Easily from Baseballs to Softballs
Fully Enclosed Wheel
Adjustable for Pitch Height, Grounders, and Pop-Flys
Tubular Steel Legs with Rubber Tips
Uses Standard A/C Power
Converts from Baseball to Slow or Fast Pitch Softball
Adjustable Speed Control adjusts for a variety of pitches
Fully Enclosed Wheels provide maximum safety
Auto-Ball Feeder pitches every 9 seconds
Strong Steel Legs for stability
Combination Pitching Machine Specs
Model #: HTR599 – With Ball Feeder
Weight: 62 lbs.
A/C Power
Recommended Ages: 8 years to Adult
One Year Warranty
Real Baseball, Lite-Ball, and Softball Pitching Machine
Download the Heater Heater Sports Combo Pitching Machine User's Manual Here!
Anytime Baseball Supply - Free Shipping On All Ground Shipment Orders Over $49! 
Order Confirmation and Shipment
As soon as you place your order, you will receive an automated confirmation email from us. Once the payment is processed, we will ship your product as soon as possible. All products usually ship out within 1-2 business days, unless otherwise noted. If the item you ordered is unavailable or on backorder, we will reach out to you via e-mail or phone to let you know. If you decide to wait for the backordered product to come back into stock, we will capture the payment and your card will be charged. Items in stock can take 1-3 business days to ship. After the order is processed and shipped from our warehouse, you will receive a tracking number via email. With the tracking number you can track your package and get an estimated time of delivery. If you do not receive a confirmation email or a tracking number, feel free to contact us at support@anytimebaseballsupply.com. *Some large items like the Mastodon Batting Cage are subject to shipping fees due to the large size and nature of the product. 
Free Shipping
Anytime Baseball Supply has Free Shipping everyday on all orders over $49. Some restrictions do apply. Here's the details:
Free Shipping method will be selected by Anytime Baseball Supply. Free shipping orders will be delivered via a standard ground shipping method.
Offer does not apply to truck or freight shipments typical of oversized items. Some of the items we sell exceed the size limits for standard ground shipping and must be sent by truck or freight delivery.
Not available on international, Alaska, Hawaii, Puerto Rico or APO/FPO orders. Only standard ground shipping orders to residential and commercial addresses in the continental US are eligible for Free Shipping.
Damages
Before accepting any package, be sure to thoroughly inspect your item for damages. In the event that your package is damaged, take photos of the item and send them to support@anytimebaseballsupply.com. We will begin the return process and provide a return label free of cost to you. 
30 Day Returns and Cancellation Policy
Refunds on cancelled orders will be returned to the card that the order was placed on. You have 30 days from the day you received your order to return your product. If a delivery is refused for any reason other than a damaged product, a restocking fee will be charged to the card on file and you will be required to pay for return shipping on the product. We reserve the right to charge a 25% restocking fee on Sports Attack orders.
what does it take to change from softball to baseball?

Hi JP,

This machine converts easily from baseball to softball, there should be adjusments available just on the machine itself where you can set it for softball or baseball.
With this machine you don't have to change the legs to change from softball to baseball.

Thank you!

Pitch Pro

Can you adjust the 9 second delay to a shorter time ?

Hi,

No, the timer delay cannot be adjusted.

can this machine pitch real softballs

Hi,

Yes, this machine can pitch real softballs and baseballs.

is there a spec page for this machine? I want to know how much it weighs, Height, lenghth, etc. Does it fold up? Does it come with a storage case?

Hi Steven,

This machine weighs about 60 lbs., height is at 4 feet and the legs are comprised of 3 separate segments which are designed so you can easily remove a piece of the leg to convert the machine from baseball to softball. Unfortunately, it does not come with a storage case nor does it fold up. Below is the spec sheet for the machine.

https://cdn.shopify.com/s/files/1/2195/7127/files/Heater-Combo-HTR599.pdf?8131726219566863764

If you have more questions, feel free to email us at support@pitchprodirect.com

Thanks,

Pitch Pro Direct

How much is the power alley batting cage? What are its dimensions? Lx WxH How sturdy is it? Do you have to unassemble it after each use? Is the pitching machine inside of a cage ?

Hello, thank you for your inquiry. I have linked the product below. Please refer to the information in the link provided. 

https://www.anytimebaseballsupply.com/products/power-alley-22-ft-batting-cage

Is this machine compatible with the Power Alley 22 foot batting cage? Does it connect to the cage?

Hi, thanks for your interest in this product. Yes, it is. Built-in Harness connects easily to pitching machine.